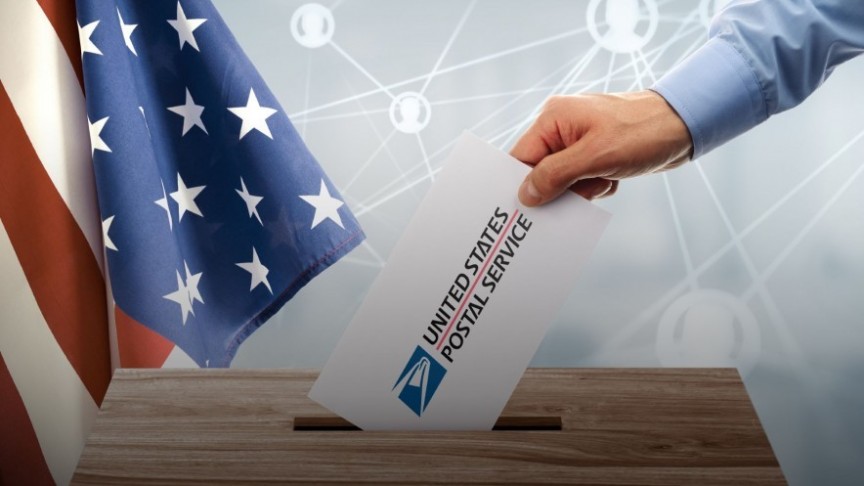 Will the U.S. Postal Service's New Blockchain Patent Reinvent Voting and Elections?
Sep 2, 2020, 8:51PM

by
Mike Dalton
The USPS has patented a blockchain-based voting system that ties in with "voting by mail." How will it affect U.S. elections?
This week, the U.S. Postal Service (USPS) filed a patent that aims to prevent election fraud by applying blockchain technology to "vote by mail" procedures.
How It Might Work
The system proposed by the USPS stores voter data on a blockchain. Each user receives a computer-readable code that is tied to their identity. Though voters receive their code by mail, they enter that code on a mobile or web application to cast their votes.
This approach has several benefits: reliance on an immutable blockchain would ensure that nobody tampers with cast votes, while the code-based system would ensure that voters only cast votes in their own name. The fact that user identities are separated from cast ballots would also provide some degree of privacy.
The patent mentions Ethereum as a possible blockchain on which the voting system might be built. However, this only applies to some "embodiments" of the plan, meaning that a real-word application of the patent could use a different blockchain.
A Solution to USPS's Funding Crisis?
The news is timely in light of the fact that President Trump has cut funding to the USPS with the implicit assumption that mail-in voting will lead to vote fraud:
[The Democratic Party wants] $25 billion for the [USPS]. Now, they need that money in order to have the post office work so it can take all of these millions and millions of ballots...But if they don't get those two items that means you can't have universal mail-in voting, because they're not equipped to have it.
Meanwhile, Democrats are advocating for mail in-voting as a more accessible option for various people, and as a means of voting under the current lockdown.
The U.S. Postal Service, for its part, is unaffected. After announcing plans to cut back service due to less funding, Postmaster General Louis DeJoy stated on Aug. 18 that the USPS is "ready...to handle whatever volume of election mail it receives."
Will It Ever Be Put Into Practice?
This week's patent will certainly not affect the U.S. general elections in November. Roy Betts of the USPS told Fortune: "This is a pending patent...Nothing happens this year. We will have no further comment beyond what is covered in the filing."
Whether the ideas outlined in the USPS's patent ever come to fruition depends on several factors. First, the USPS will have to actually obtain the patent, which will take at least a year. Then, the USPS or another organization will have to build the system―something that may not happen even if the USPS does obtain the patent.
Even if the system is built, it may never affect national general elections. State or municipal governments could use the platform on a smaller scale. In fact, this may be a more likely outcome: West Virginia trialed a platform called Voatz in 2018, setting a precedent for small-scale blockchain voting. Denver, Colorado, and Utah have also tested blockchain-based voting in small elections.
The USPS has historically been slow when it comes to blockchain exploration. It sought a similar patent in 2018―one that suggested using blockchain for identity management. It also released a report in 2016 that outlined blockchain's potential in the postal service. It even considered offering a Bitcoin exchange in 2014, something that Australia Post accomplished this year.
However, nothing seems to have come of those initiatives.
Blockchain Voting Elsewhere
Despite the United States' slow progress on blockchain-based voting, several other countries have trialed systems of this type. Sierra Leone used blockchain technology in its 2018 presidential election. Other regions that have used blockchain voting (or at least trialed it) include Russia, Estonia, and Tsukuba, Japan.
The reason that countries are slow to adopt blockchain-based voting is simple: designing a proper system is a delicate balancing act. Though blockchain-based systems can prevent vote fraud and ensure voter anonymity, those same systems also introduce security risks due to the fact that they are experimental and have not been used on a large scale or over long periods of time.
Furthermore, the fact that the U.S. federal government has not shown much interest in blockchain-based voting means that it will probably not arrive any time soon.
Disclaimer: information contained herein is provided without considering your personal circumstances, therefore should not be construed as financial advice, investment recommendation or an offer of, or solicitation for, any transactions in cryptocurrencies.