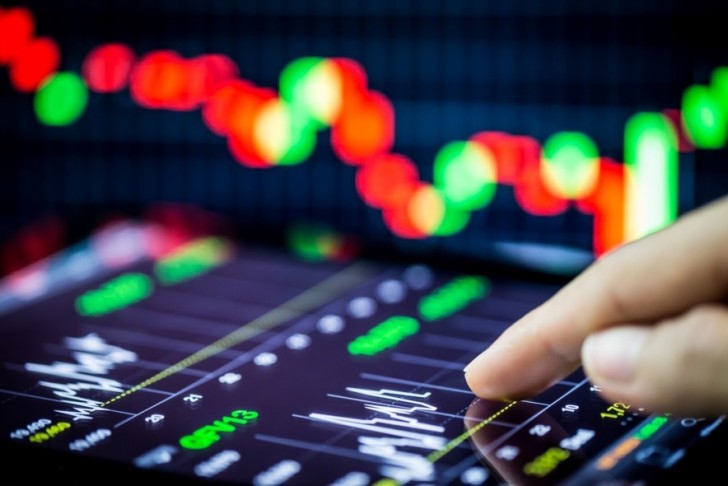 Crypto Markets Higher for a Second Week on U.S. Stimulus, XRP, SNT, ENJ, REP, Mar 30
Mar 30, 2020, 8:04PM

by
Kevin George
XRP was 13% higher on the week as markets continued to recover. SNT, ENJ and REP were three tokens that showed strong gains for the week.
The cryptocurrency market was higher on the week after the U.S. Congress passed a $2 trillion Coronavirus stimulus bill, which saw a rally in stock markets and other assets. The legislation is aimed at supporting U.S. businesses and workers, but as the United States economy is globally important, it has helped to support stocks and commodity markets worldwide.
Bitcoin saw a second-consecutive week of gains, although it also saw a second failure to get through key resistance at $6,950, which may signal that the market could try to test the lows again in order to confirm that a base is in place for another move higher.
XRP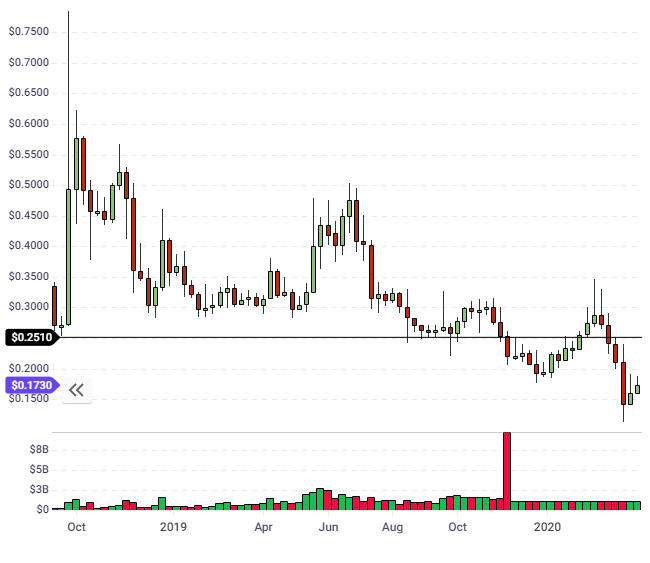 Ripple's XRP was 13% this week after bouncing from the panic level below $0.1500. The coin is now looking to test the $0.200 level once more, but this will depend on the overall market and we may see it drift lower before it stabilizes.
The key resistance level in XRP will be the $0.2500 area, which provided support for XRP in late-2018 and again in late-2019. Getting above that obstacle would open up a run at the $0.4500-5000 resistance, which was set in mid-2019. On the monthly chart seen below, XRP is looking to hold a strong support level from back in 2017, which saw the coin rally to over $3.00 in the largest crypto rally to date.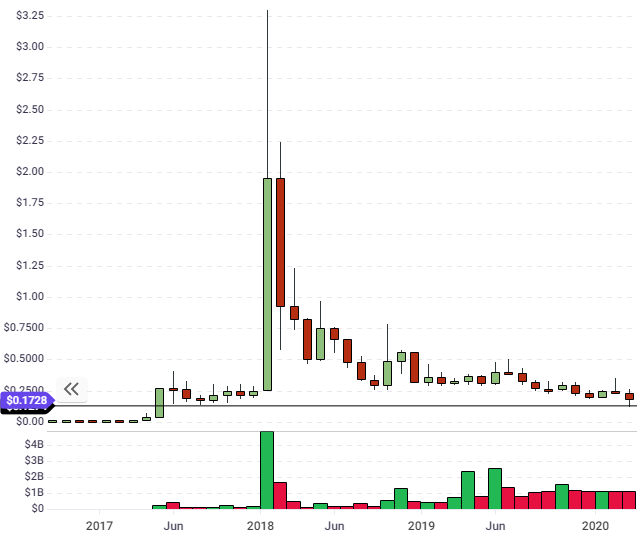 XRP boasts a very fast settlement time for payments of 4 seconds, compared to BTC's 60 minutes and this highlights that the latter coin will probably be the store of value in the crypto monetary system in the same way that gold operates now. For everyday banking transactions, a faster currency would be preferred and XRP is seeking to build the infrastructure to grab that crown.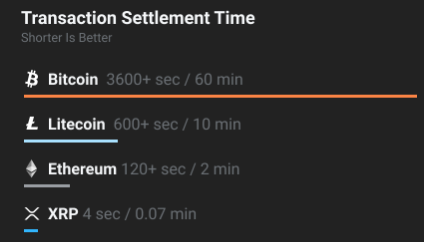 XRP currently handles 1,500 transactions per second (tps) but it claims that it could handle the same volume as Visa, which was estimated at 65,000 tps in mid-2019.
SNT
One of the top performers on the week was Status (SNT) with a 42% gain over the last seven days. Status is a private messenger app and wallet, which allows crypto payments through user communications.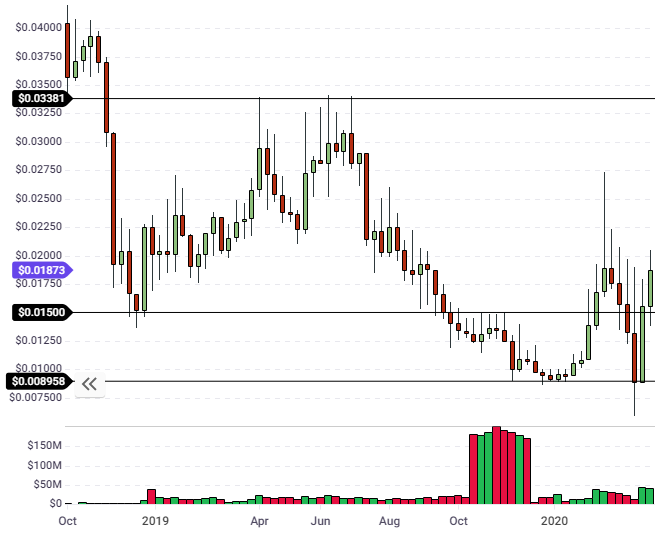 The secure wallet allows the storage, sending and receipt of ERC20 tokens and also some ERC721. There is also a decentralized web browser, which lets users browse an ecosystem of applications without being tracked.
SNT is currently ranked number 59 in the list of coins by market cap with a valuation of $63 million. The move higher is a second-consecutive week of gains and caps a strong bounce from the lows near $0.00895. This has also seen the coin close above the $0.01500 level, so the next target is the $0.03300 level if it can hold onto the bullish tone.
ENJ
Like Status, Enjin Coin (ENJ) has seen two strong weekly moves from a key support level that runs back September 2019. This week's 28% gain will give ENJ investors hope that the coin can capitalize further and build to another test of the $0.1500 resistance level.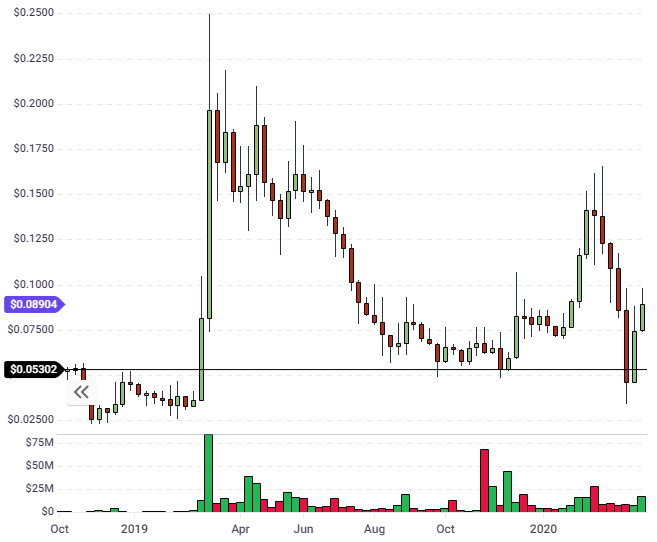 ENJ is just ahead of SNT with a market cap of $71 million and is currently number 59 in the list of coins. Enjin is a platform focused on blockchain gaming, which allows developers to build their own games without needing to use blockchain code. The project moved to the Ethereum mainnet in February of this year. The platform also has a digital wallet and the coin previously rallied after it was announced that Samsung would be partnering with the project to integrate the wallet with the Galaxy S10 smartphone. Enjin's ecosystem also allows users to trade in-game accessories such as weapons, or other collectibles.
ENJ looks like a good token for those who want to diversify away from digital currencies. Central banks in China and the U.S. are both moving towards a digital version of their currency and this could be an obstacle for many independent cryptos to see meaningful gains.
REP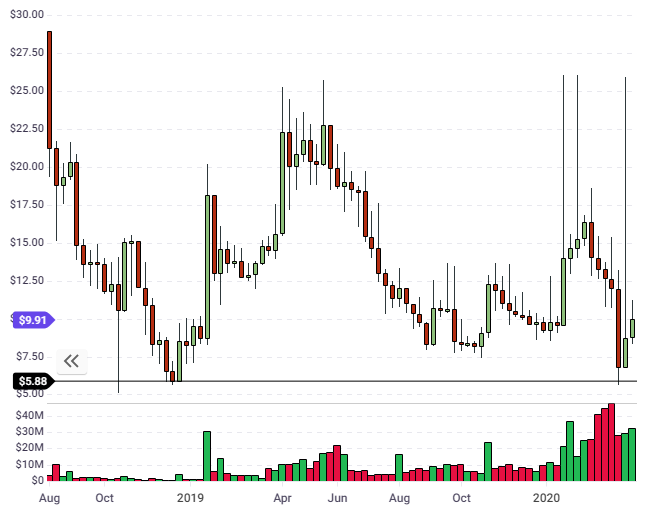 Augur's REP token was 25% higher on the week after support was found at the early-2019 low around $5.88. Augur is a decentralized betting exchange that is looking to improve on the current offerings in that sector. Augur's platform is now gravitating to the full launch of V2 and its business model is based on being a peer-to-peer "no-limit" exchange. This seeks to better the current sportsbooks, which as Augur's website states, have a business model that aims to, "ban winners or impose tiny limits like $20 per bet." By doing so, bookmakers can limit their risk and offer skewed odds on favored teams, which only enhances the sportsbook's edge.
The V2 platform was expected to fully launch in Q1 2020 and allows users to wager with both 0x and DAI tokens. If REP can hold onto the support level, then the next real target will be the recent highs near $16.00.
The financial markets may not have bottomed yet but it is likely that they will over the next week or two and this should set the stock markets, and other assets up for a recovery, maybe towards the next U.S. election in November. For cryptocurrencies, this stabilization will be necessary for gains in the near-term, but we must also keep an eye on the Bitcoin halving event, which is programmed to occur in May and has been discussed in previous articles.
Disclaimer: information contained herein is provided without considering your personal circumstances, therefore should not be construed as financial advice, investment recommendation or an offer of, or solicitation for, any transactions in cryptocurrencies.