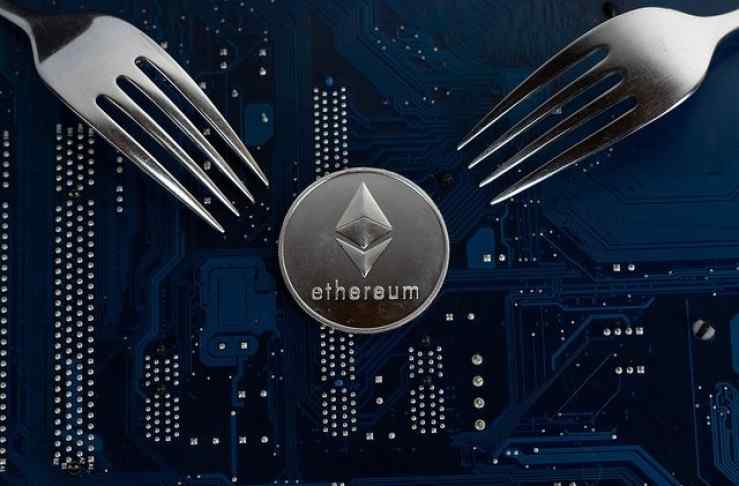 Ethereum Upgrade Delayed as Monero Goes "Bulletproof", TRX and USDT Analysis Oct. 20
Oct 20, 2018, 3:19PM

by
Kevin George
The Ethereum price remains solid as Constantinople is delayed. Tron's partnership with Baidu underwhelms as Monero becomes "bulletproof".
ETH
Ethereum's next hard fork has been postponed until 2019, developers have confirmed. The Constantinople upgrade had been planned for activation in November but has since been held back due to several bugs found in the code.
Sharing the name of the ancient city in Turkey, now known as Istanbul, Ethereum's next hard fork is set to include five backward incompatible changes to the network. The changes included minor code upgrades and a more controversial plan to reduce the mining rewards of each block.
In a Youtube-streamed meeting, it was agreed that the upgrade was at threat of being rushed and the decision to pull back a little would be mutually beneficial. It's possible that the bearish activity in ETH in recent months has supporters craving some new developments.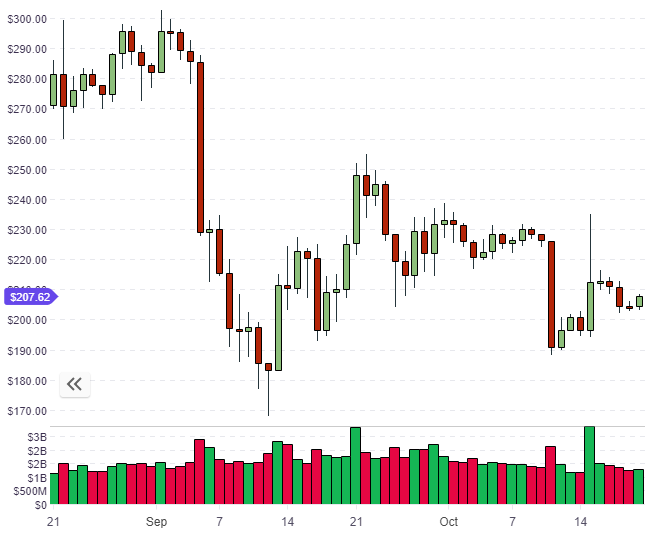 The price of ETH has remained solid after Monday's tether-related gains across the market and this has brought ETH back above the key $200 level. I'd noted after last Thursday's sell-off that the market would need some days to repair the damage and that has been the case. The price action this week has ETH in a better position to mount a rally and the next targets would be the tether highs of $230 on the way to $250.
XMR
A coin that has successfully completed a hard fork upgrade is Monero. The so-called privacy coin saw its "Beryllium Bullet" upgrade completed on October 18th. In a recent Bitrates article, the developers were quoted as stating,
This release of the software presents a number of major improvements to Monero, as well as a large set of bug fixes.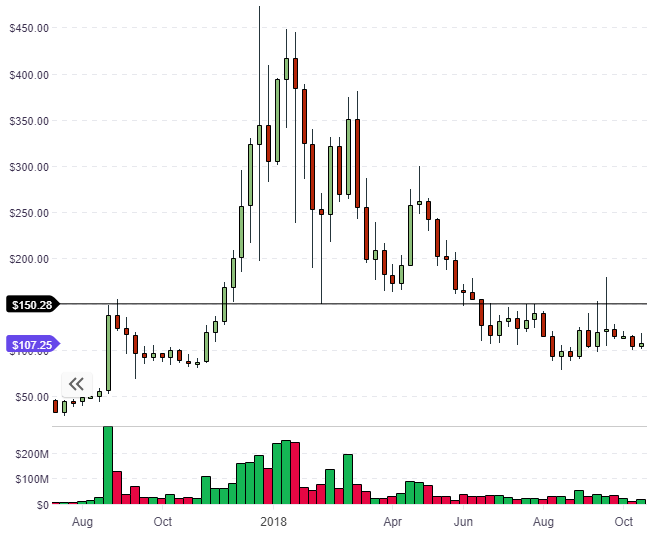 The key change to the Monero network is the bulletproof protocol, which will make the XMR currency cheaper to transfer, and more secure. Monero's development team had written about bulletproofs back in December and it was stated that the transaction size would be reduced from 13.2 kB to around 2.5kB (an 80% reduction). The plan was to deploy bulletproofs in two stages to avoid implementation problems.
Bulletproofs represent a huge advancement in Monero transactions. We get massive space savings, better verification times, and lower fees.
The new bulletproof upgrade could be a significant development for Monero's appeal going forward. The price is currently stalling under the $150 level that I had mentioned in a previous article. Although the price action is not as strong as other coins; we can see a rally in XMR if a general market rally took the coin above that key $150 level. The arrival of a faster and cheaper Monero may also bring new attention to the coin.
TRX
A partnership between Tron and Baidu has been confirmed as a cloud computing project, rather than blockchain. CNLeger reported that a deal had been reached to partner in "basic cloud business". The aim of the collaboration is to "build, operate and debug blockchain products" on the Baidu Cloud.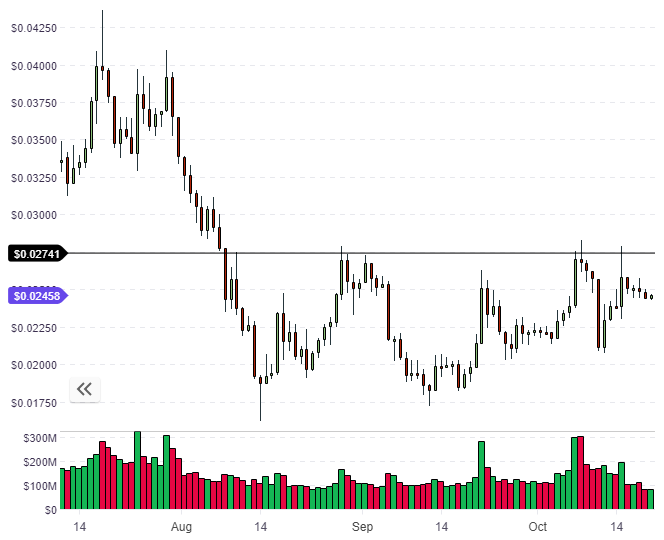 The report added that Baidu has their own plans to release the "Blockchain Commercialization Super Partner Plan v1.0," which will focus on tech exploration and revenue sharing with "commercial super partners" to build a "mutually beneficial" blockchain ecosystem. Baidu has talked about monetizing the Baidu Cloud blockchain BaaS platform. Baidu has been active elsewhere in the crypto space with an investment in the Circle trading platform. Some form of blockchain system will likely appear for Baidu and Tron may be in line to create it if the cloud-related work is a success. At present, the Baidu partnership has been underwhelming for traders who maybe hoped for something a little more game-changing.
The price of TRX is also solid and the rally to $0.275 has stalled due to a decline in volume. This level has provided resistance a few times in the last couple of months and if we see a catalyst that brings volume in order to break higher, a further rally can be expected to $0.375 as a minimum.
USDT
The price of tether stabilized from the Monday spike lows but the price is still trailing the 1:1 peg at $0.973. Tether did release a transparency update on their website, which may have helped to calm traders' fears, however, there is still an expectation that tether could lose its dominant position as the leading stablecoin.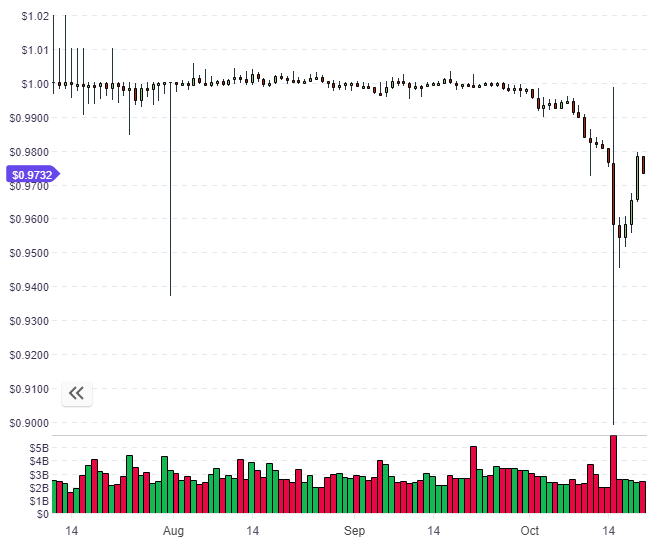 It has been reported that Binance is now planning to list several stablecoins on their platform. This move is in response to the tether situation and exchanges such as Binance will want to diversify their risk in tether to avoid further volatility.
Binance's CFO Wei Zhou told CoinDesk,
We hope to be able to list a few more stablecoins on our platform. As a whole, we believe things will even out. We will continue to support USDT.
Tether still trails the $1 level and this will be an interesting development to watch in the coming weeks to see how many investors move into competitor stable coins and how it will affect the market capitalization.
I feel that if we see a wave of institutional money coming to cryptocurrencies, as has been predicted, the institutions will want further clarity on USDT. It's possible that they may shun it all together as the Gemini team, for example, has branded the Gemini Dollar (GUSD) as "the world's first regulated stablecoin". Gemini's deposits are audited monthly and this is a key difference from Tether, which was criticized by Mike Novogratz for its team's attitude toward transparency.
Tether's run as the number one stablecoin is likely coming to an end.
Disclaimer: information contained herein is provided without considering your personal circumstances, therefore should not be construed as financial advice, investment recommendation or an offer of, or solicitation for, any transactions in cryptocurrencies.