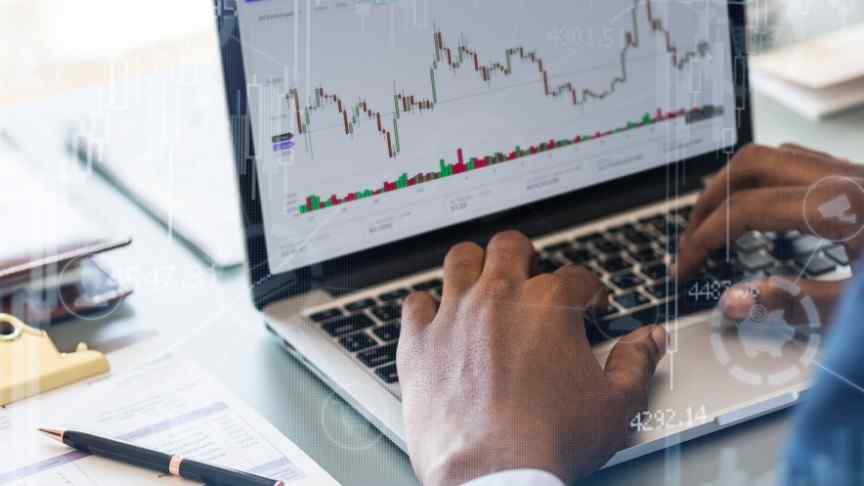 Bitcoin Rallies and Iran Government Moves Towards Cryptocurrency Adoption Aug. 29
Aug 29, 2018, 11:22AM

by
Kevin George
Bitcoin has rallied and eyes the key $8,500 level as it builds on the safe haven tag. Iran government moves nearer to state-backed cryptocurrency
BTC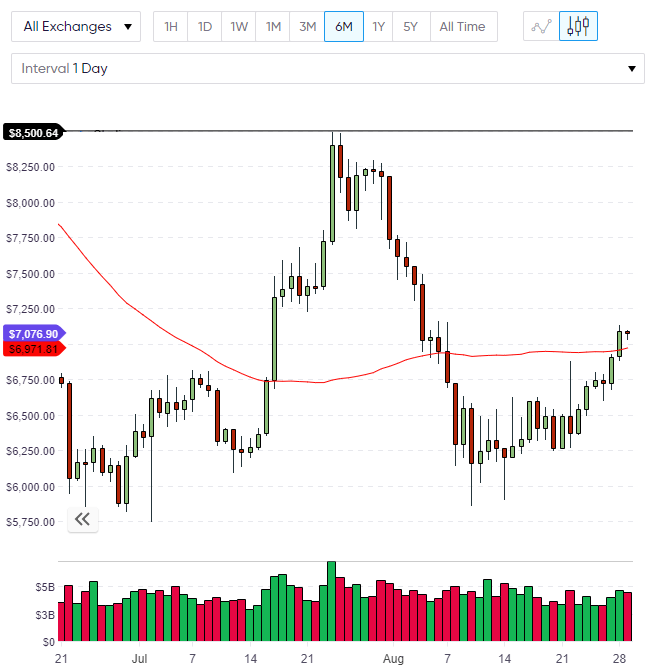 Bitcoin has rallied on Monday and Tuesday to trade at $7,070 and has moved across the $6,900 level I noted in my Monday article, where I noted:
Bitcoin is outperforming some of its rival coins once again and the close at $6,700 sets up for further gains with the $8,500 level still being the first obstacle on the path to retake $10,000.
I also noted the $6,400 level as being a key level on the monthly chart, which will close on Friday 31st. A higher close in BTC moves us further from the support level and helps to create a more positive technical setup. If Bitcoin can close the week above $7,000 then we may see an attempt to test the strong resistance at $8,500 level once more.
Bitcoin has been gaining investment flows and is starting to realize its status as a safe haven asset to escape from economic crisis.
This has been seen in countries such as Turkey and Venezuela who have recently experienced times of economic stress and uncertainty. On the heels of Venezuela's release of its state-backed "Petro" cryptocurrency, Iran is also looking at adopting its own cryptocurrency. Iran's Supreme Cyberspace Council is reportedly planning to release the currency as early as September. The move to state-backed currencies is important because it allows these countries to bypass US and western sanctions and further threatens the status of the US Dollar and the current financial system by moving trade and investment flows away from the world's reserve currency.
Iran previously banned banks and financial institutions from dealing in cryptocurrencies but is set to lift this ban. It was previously noted that Iranian citizens had transferred $2.5bn out of the country to buy cryptocurrencies. I noted in my article about Venezuela that other South American countries could follow with their own currency if the Petro is a success and this also goes for Iran's allies. Further instability from trade wars and emerging market currencies could see continued attention in the crypto space.
IOTA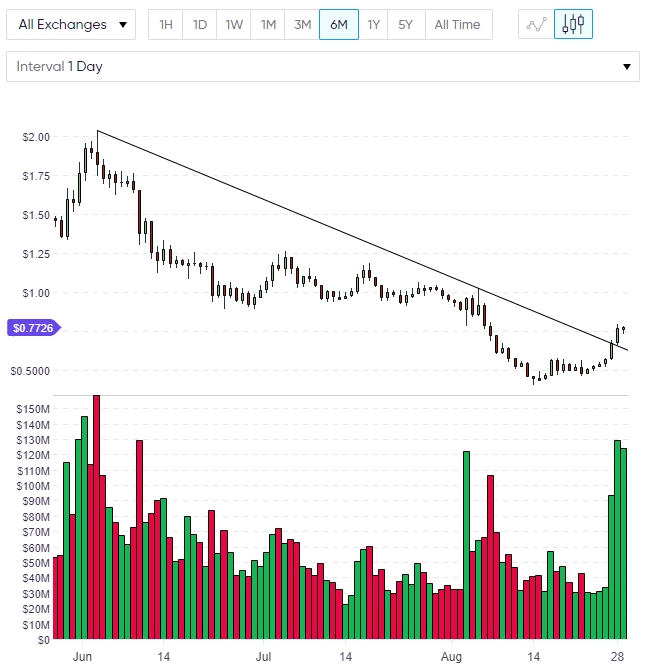 IOTA has rallied this week to $0.77 and has broken downtrend resistance. IOTA is setting up for a strong weekly close and this could see IOTA target the $1.00 level once again. IOTA has a few resistance levels on the daily chart before we could see $2.00 prices, however strong volume has come into IOTA in the last few days so it's possible that a further rally is coming.
A driver for this move is likely the news that IOTA's partnership with car giant Volkswagen is moving ahead, with the announcement came the first major development with the Digital CarPass service set to be released in Q1 2019. IOTA is looking to pair up blockchain with the Internet of Things (IOT) industry and as I noted in a previous article that a successful tie-up with Volkswagen could see other car makers jumping onboard.
DASH
Dash has also seen a strong move in the last two days to create a more positive charting setup. We are yet to break through resistance, which is coming in just across the $200 level but it's possible that this could get tested by the end of the week.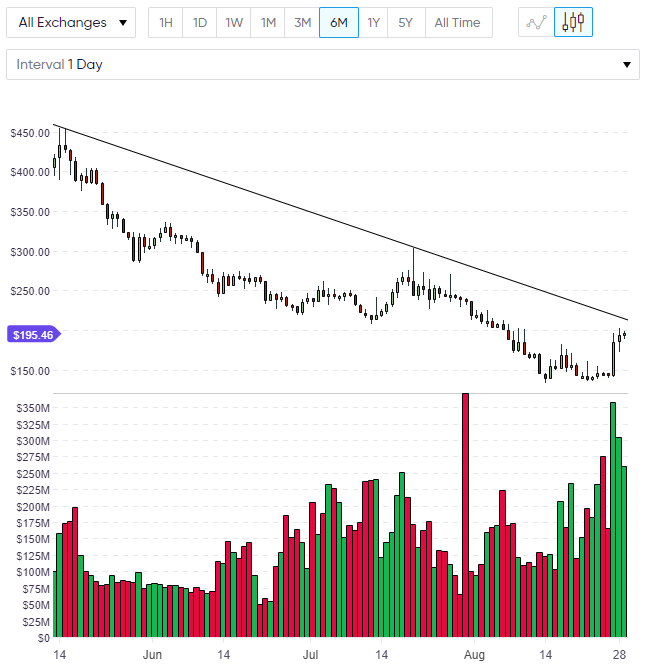 If DASH can hold this strength on the week then we could be looking at the low for this coin, which currently holds the number thirteen spot with a market cap of $1.6 billion.
EOS
EOS is another coin that has broken through a key downtrend resistance line and may be trying to put in a key low on the weekly level. All of these moves into the weekend would also improve the setups on the monthly charts.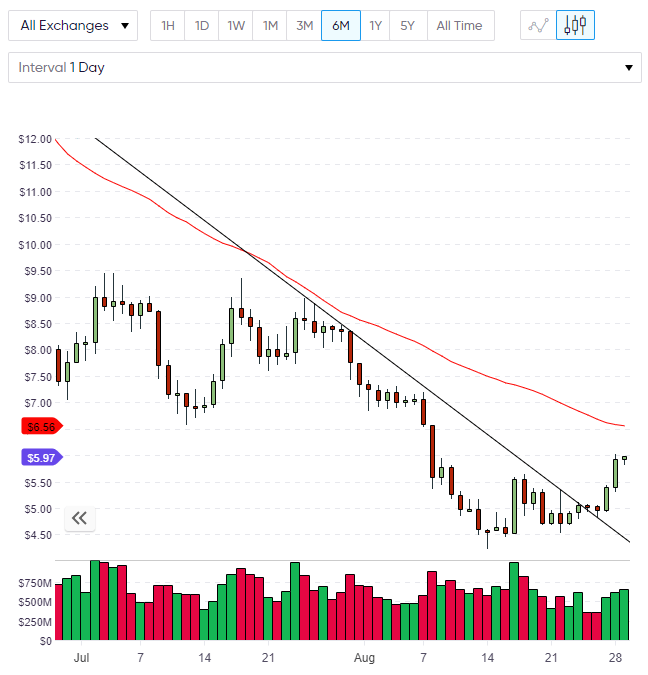 EOS is now trading 25% higher on the week and can still improve on this as we head towards the weekend. I stated in my Monday article that, resistance for this week comes in at $5.30 and a close above here would set up EOS for further gains.
We have taken this level strongly and a bullish close on the week could also mean this is a key low for EOS, at least for the medium term.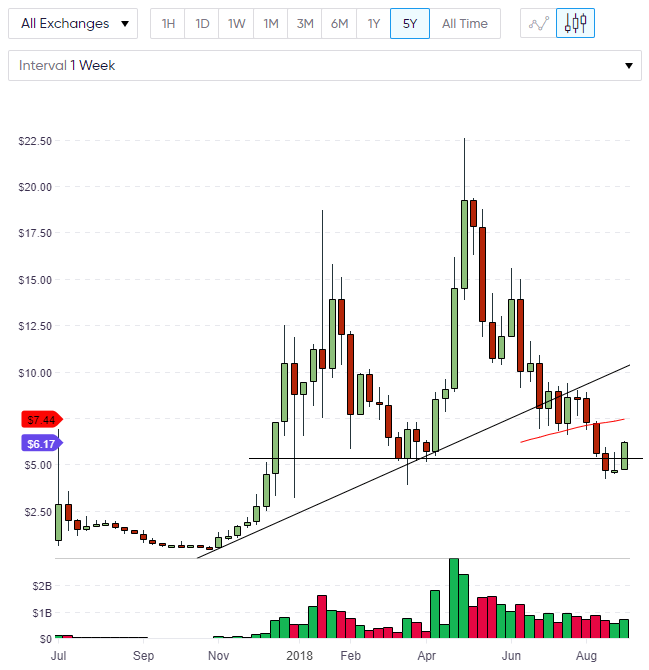 The weekly chart is setting for a hold of the support near $5.00 and EOS can then start a move towards the 50 moving average at $7.50. The uptrend line from 2017 that we broke previously, is sitting around $10.00 and that would be a key resistance later.
Disclaimer: information contained herein is provided without considering your personal circumstances, therefore should not be construed as financial advice, investment recommendation or an offer of, or solicitation for, any transactions in cryptocurrencies.