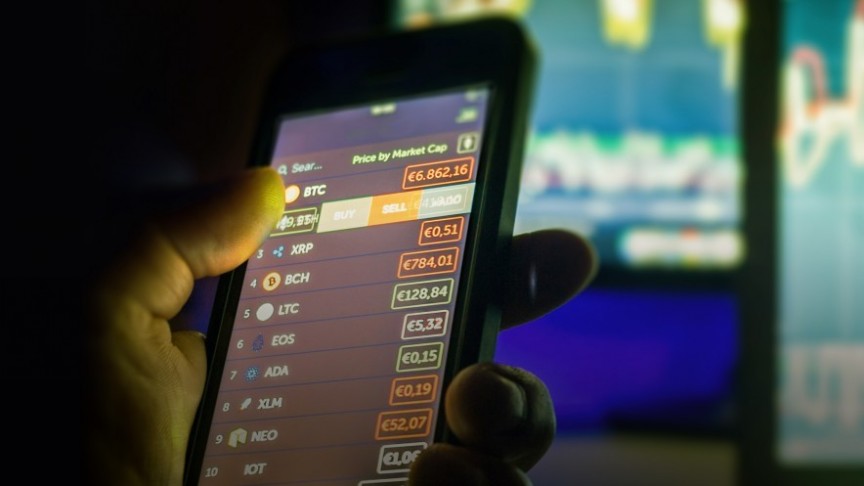 Mobile Mining: Can Your Smartphone Help You Earn Cryptocurrency Rewards?
May 15, 2020, 5:01AM

by
Mike Dalton
Several apps allow you to mine cryptocurrency on your smartphone...but is the practice truly profitable?
Cryptocurrency mining allows you to generate coins by dedicating your computer's power toward cryptographic problems. This serves a public good: miners approve transactions and secure the underlying blockchain. Mining also has a profit incentive: you'll earn a small amount of cryptocurrency with each block that you mine.

Typically, miners rely on high-end GPUs and specialized ASIC chips, as more powerful devices have a greater chance of mining a block. However, some services allow low-power devices like smartphones to mine crypto as well. Though this practice isn't yet widespread, a few companies have attempted to make it a reality.
HTC Exodus
HTC has announced that its Exodus 1S phone will support Monero mining. The phone will offer the DeMiner app through a partnership with Mida Labs, which will allow users to mine the XMR token. Estimates suggest that users will be able to mine ~1/3 of a cent of XMR per day―not much, but enough to cover the cost of electricity twice over.
HTC's broader line of Exodus smartphones has also offered more general features since 2018. Those features include a built-in crypto wallet, support for decentralized applications, a virtual vault for crypto storage, and social key recovery. HTC claims that the Exodus series supports over 100 different cryptocurrencies.
Electroneum
In February, Electroneum announced that its Android smartphone (the Electroneum M1) will come with cloud mining features. This feature does not truly use your device's power to mine; instead, Electroneum is effectively running a token giveaway. Regardless, you can earn up to $3 worth of ETN tokens per month through the app.

You don't need an Electroneum-brand phone to use this feature. Electroneum's cloud mining app can be installed on any Android smartphone via the Google Play store. By using the app, you'll be able to spend your crypto earnings on the ETN Marketplace, at small online businesses, and on mobile top-ups and utility bills.
Pi Network
Pi Network is an experimental blockchain and cryptocurrency created by researchers from Stanford University. Pi claims to be the "first digital currency that you can mine on your phone." Once again, Pi mining does not rely on your device's power; instead, you earn tokens based on referrals and participation in the Pi community.

Similar to Electroneum, Pi mining does not cost anything in terms of electricity, investment, or upfront costs. It is possible to mine Pi offline, and the app is not tied to any brand of device. Unfortunately, the Pi token has no real market value at the moment, and it is far from certain that the token will gain value in the future.
Minephone WX
Minephone WX is an upcoming Ethereum mining phone from Bitwings. It does not use its own power to mine; rather, Bitwings mines ETH on your behalf and gives you its earnings. Bitwings projects profits of €10440 worth of ETH over three years. That accounts for the phone's €2900 price tag, but not the price of the mining contract.

Mining contracts of this type often lack accountability, and providers can run into issues before you receive a payout. Fortunately, Bitwings is offering guarantees concerning payouts, cancellations, and unforeseen events. But given that Minephone WX has been in pre-order since 2018, it is hard to say whether Bitwings will deliver on that promise.
Google and Apple Policies
Google and Apple banned most mining apps from their respective app stores in 2018. Apple did so in order to eliminate apps that put a strain on device resources, require excess power consumption, drain battery power quickly, or generate large amounts of heat. Google's reasoning is presumably very similar to Apple's reasoning.
There are several mining apps still listed on each store, but those apps generally resemble the apps above. That is, they do not truly mine cryptocurrency using your smartphone's power. Instead, they mine cryptocurrency remotely, allow you to manage cloud mining contracts, or pay out rewards in an entirely different manner.
In Summary
Smartphones are capable of mining cryptocurrencies designed for low-powered devices. HTC's Exodus S1 smartphone has shown that it is possible to mine crypto just as you would on your PC. However, true mining is heavily restricted by app stores, has very low profits, and is far less common than remote mining and disguised giveaways.
Mining Bitcoin on a smartphone is completely out of the question. Any crypto investor who intends to mine for profit should invest in dedicated mining hardware and consider future revenue carefully. Even on a regular PC or laptop, profits can be minimal or negative―the problem of mining effectiveness is not limited to smartphone users.
Disclaimer: information contained herein is provided without considering your personal circumstances, therefore should not be construed as financial advice, investment recommendation or an offer of, or solicitation for, any transactions in cryptocurrencies.