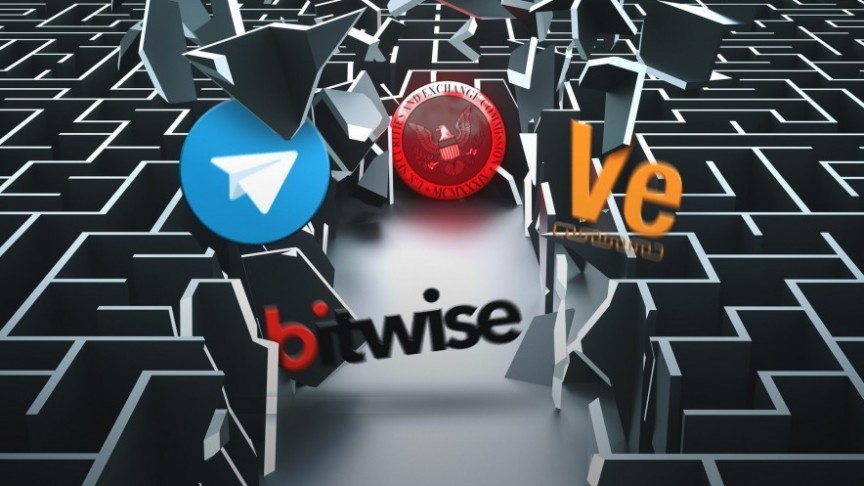 The SEC Strikes Again: Three More Cryptocurrency Crackdowns
Nov 1, 2019, 4:51PM

by
Mike Dalton
Over the past few weeks, the SEC has cracked down on three crypto projects: Telegram (TON), Bitwise, and Veritaseum. Can they survive the ordeal?
The U.S. Securities and Exchange Commission is on a spree of crypto crackdowns. In early October, it reached settlements with EOS and Sia, forcing each project to pay a hefty fine. These settlements weren't entirely bad: both projects cooperated with the SEC, and now that they've paid their dues, they're free to move forward.
Other projects might not be so lucky. Over the past several days, the SEC has imposed harsh penalties on three companies: Telegram, Bitwise, and Veritaseum. Here's why the projects in question are facing such heavy restrictions, what the SEC is aiming to achieve, and what this means for other up-and-coming cryptocurrency projects.
Telegram Barred From Token Distribution
Telegram has been preparing to launch TON, a blockchain to complement its messaging app. It has already raised $1.7 billion through a token sale, and TON's launch was slated for October. However, these plans have been put on hold: last week, the SEC issued a temporary restraining order that bars Telegram from distributing its token.
The SEC fears that Telegram's tokens could enter unregulated markets and reach U.S. investors illegally. "Our emergency action today is intended to prevent Telegram from flooding the U.S. markets with digital tokens that we allege were unlawfully sold," one representative from the SEC stated in an announcement from October 11.
Telegram argues that it has been trying to engage with the SEC for 18 months without any clear feedback, and it has now filed its response to the SEC. Though the SEC does not seem to want to shut down TON entirely, the restrictions could present a challenge for Telegram, considering it has canceled its ICO once before.
Bitwise's ETF Proposal Has Been Rejected
Since July 2018, Bitwise Asset Management has been attempting to introduce a Bitcoin ETF―a type of investment that matches Bitcoin's market performance. This January, it submitted its latest proposal to the SEC in conjunction with NYSE Arca. Bitwise's ETF would be a big step forward since no Bitcoin ETFs exist at the moment.
However, the SEC rejected Bitwise's proposal on October 9th, arguing that the proposal does not meet legal requirements and that NYSE Arca did not show that it could prevent fraud. The SEC's decision isn't surprising: past ETFs, such as those from the Winklevoss brothers, have also been rejected for similar reasons.
Bitwise says that it will continue to seek approval, but the future looks bleak. VanEck has pulled its most recent Bitcoin ETF proposal, and there is now just one more possibility on the table: a joint effort between Wilshire Phoenix and NYSE Arca. It may be a long time before a Bitcoin ETF becomes a reality―if indeed that ever happens.
Veritaseum Has Entered Settlement Talks
The SEC is nearing a settlement with Veritaseum, an allegedly fraudulent crypto firm. According to the SEC, Veritaseum raised $14.8 million in an unregistered and misrepresentative token sale. It also claims Veritaseum had no product when it claimed to have one, and that it engaged in market manipulation, among other things.
In August, the SEC froze Veritaseum's assets when the project head, Reggie Middleton, attempted to transfer the project's funds to a personal account. However, Veritaseum did not enter settlement talks until recently: on October 9th, FinanceFeeds reported that the lawsuit is now proceeding with the New York Eastern District Court.
It's hard to say whether Veritaseum will survive, as there has not yet been a legal judgment on whether the project has indeed committed fraud. Regardless, Veritaseum does not seem to be a very sympathetic victim, and these developments are a reminder that the SEC is not just penalizing established crypto companies.
The Bigger Picture
These developments are a sign that the SEC is doubling down on enforcement and compliance. Incidentally, the SEC, the CFTC, and other regulators have just published a statement urging crypto companies to comply with rules designed to prevent fraud, money laundering, and terrorism. Arguably, these regulators have good intentions.
However, much of the crypto community feels differently. Some critics believe that regulations are unfairly stifling established companies like Telegram and Bitwise. Others argue that absolute financial freedom is desirable and that regulations harm that goal. In light of recent events, there seems to be no resolution in sight.
Disclaimer: information contained herein is provided without considering your personal circumstances, therefore should not be construed as financial advice, investment recommendation or an offer of, or solicitation for, any transactions in cryptocurrencies.