Writer

Ricardo is from Barquisimeto, Venezuela. He is a Biologist with a focus in Fungal Biology, Plant Ecophysiology and Molecular Ecology. He is also a musician wannabe, and a foodie. He is in love with nature and with the human experience, and as such, seeks to truly understand them through science. He cultivates several species of plants and fungi and loves to watch them grow. He is interested in Psychology, Gastronomy, Economy, Evolution, Languages, and Biotechnology and even more interested in all things related to Fintech, Data Science, Blockchain technology and cryptocurrency. Ricardo is a resident of Venezuela.
READ FULL BIO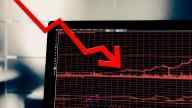 Bitcoin Drops Below $6000, Takes the Market With It
Bitcoin fell under the $6000 level, amidst a marketwide selloff that has seen most major coins lose over 12% in the last few hours.
Markets
Nov 14, 2018 - 1 min, 51 sec read
All the post are loaded