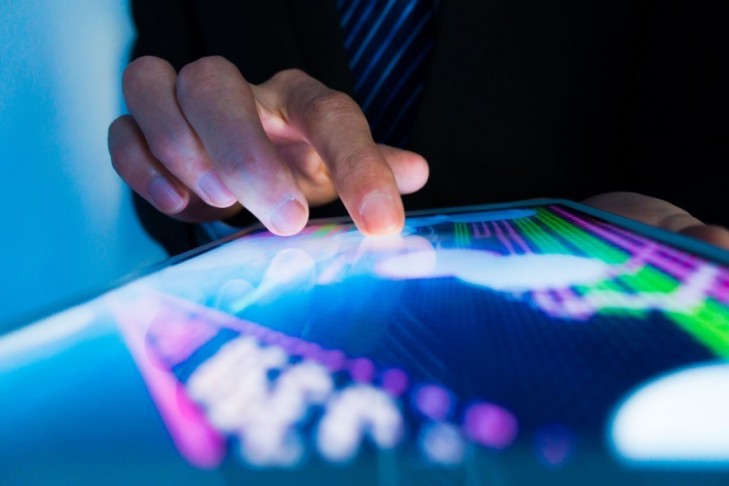 Altcoins Outperform as BTC Struggles at $4,000, ADA, ONT, RVN Mar. 25
Mar 25, 2019, 5:44PM

by
Kevin George
BTC still struggling to clear the $4,000 level but altcoins are carrying the torch with ADA, ONT, and RVN seeing strong gains.
BTC
The price of Bitcoin is still making hard work of the $4,000 level as it tries to hold onto the recent rally. The failure to make any serious progress above that level is a concern for the market if another round of profit-taking arises. BTC has struggled recently despite strong gains in commodities such as gold and oil. Stock markets are also seeing some declines which also leads to a "risk-off" situation. The recent sell-off in stocks is related to continued signs of a global slowdown in growth with the likes of China and Germany leading the economic slump, which brings fears of another recession.
There is still no clear catalyst to propel BTC and the general market higher, however, we are seeing some altcoins detach from the price of BTC and are being re-priced according to their own outlooks and technology. This was why I wrote last week that BTC may trail other coins in the near-to-medium term as the market sees a potential increase in institutional involvement. Bitcoin's technology and use case are well-defined whilst other projects give greater upside potential if they can find a larger market to tap into. This is the reason that BTC is being outperformed by the likes of Ontology (ONT), which is discussed later in this article.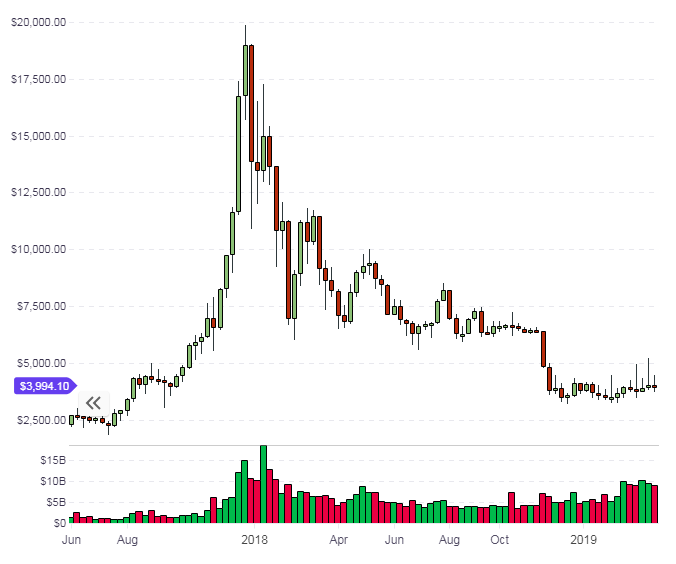 For BTC we are still looking at $4,000 and the upside would likely see initial resistance at the $6,000 level, which was a stubborn support level in late-2018. We have yet to see any traction from institutional involvement, so going forward we need to see a game-changing event that brings attention back to the market. This could be from continued troubles in the traditional financial system, which would be unwelcome with the levels of debt and interest rates near zero, or through a crypto offering from a tech giant such as Facebook.
ADA
Cardano has had a strong week with a gain of 22% that puts the coin in eighth place by market cap, $35 million ahead of Tron and $500 million behind Stellar.
The first explanation for the strong performance is the release of its version 1.5, which gets the project closer to the anticipated "Shelley" upgrade. This upgrade will see ADA move from miners to a proof-of-stake system, which is becoming a popular option as projects seek to become ASIC-resistant--a reference to the ASIC chips that are required in PCs to mine cryptocurrencies. The coming upgrade in ADA will also see it becoming more insulated from potential 51% attacks.
The second reason for the move in ADA are rumors that the coin may soon be listed on the Coinbase exchange. This has helped to fuel the price gains and will continue to add support in the sessions ahead.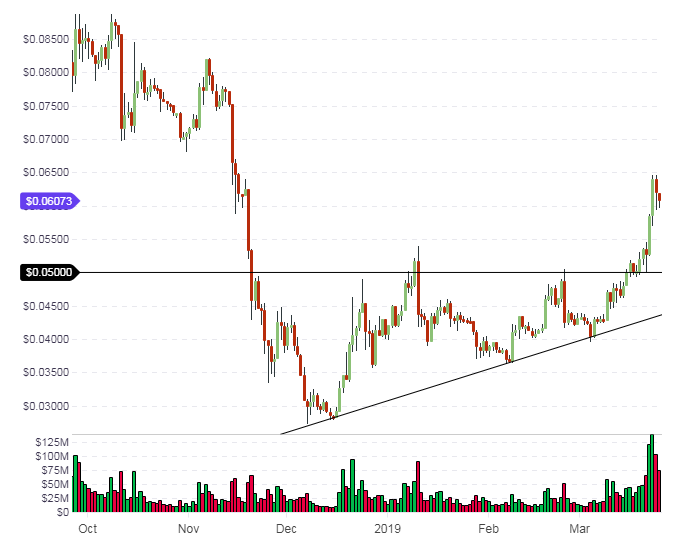 The gains in the price of ADA have been swift after the coin got above the $0.500 level. The next key level will be $0.700 in the near-term.
ONT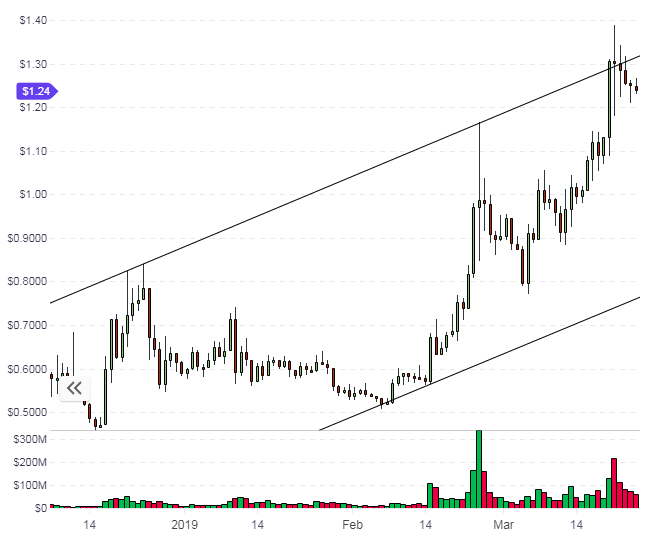 Ontology has been another gainer on the week a 14% rise bringing the project to 14th in the list of coins with a price of $1.24. Ontology currently has a market cap of $614 million.
I noted in a previous article that the $2.00 level would be resistance so there is still some room to move if ONT can continue to see support. The market is at the higher end of a price channel and will need to clear the resistance line to avoid a correction. It has been clear in recent weeks that the cryptocurrency market has broken out of its correlation with Bitcoin and although BTC is still the leader, many altcoins are seeing significant movements.
Ontology has been attracting attention due to some recent partnerships in the technology space. The company's founder Li Jun spoke to CNBC and confirmed that Chinese firm Fosun had created an Ontology-based loyalty program with reach to 100 million users. This comes on the back of an earlier tie-up with MovieBloc, a film distribution platform run by South Korean streaming platform Pandora.tv, which will also utilize Ontology. The team is also working closely with Lanxess on chemical supply chain tracking.
Ontology's blockchain supports a second token called ONG, which funds the execution of smart contracts.
RVN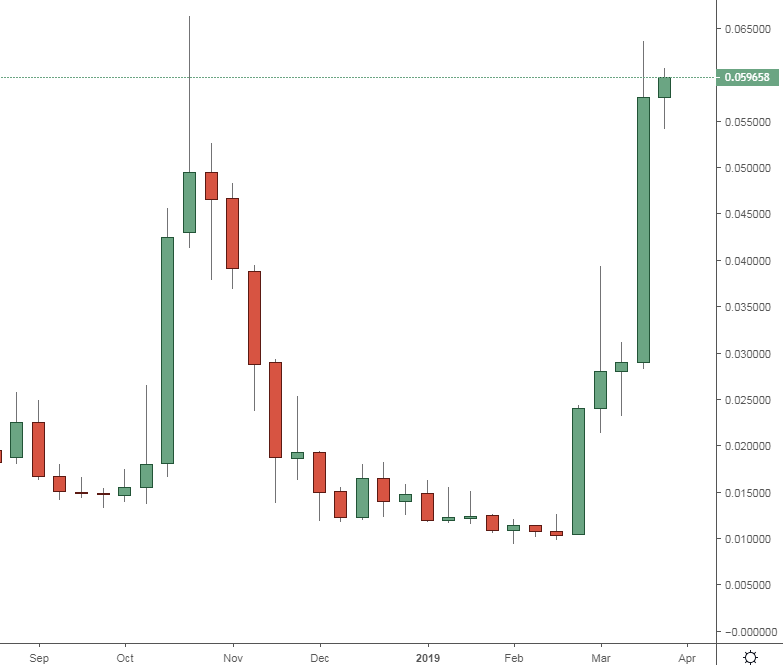 RVN is up 95% on the week and I noted the current level in an article a few weeks ago where I said,
The move last week is impressive compared to recent price action and the move could hint that a bottom has been seen in the price. Previous highs for RVN were up near $0.065.
RVN now trades at $0.600 after an impressive few weeks. The addition of a USD pairing has fuelled these gains and the strong weekly close has the coin eyeing those previous highs. RVN is now at 33 in the list of coins but a positive move in market cap of around $34 million would see it pushing for top twenty status. The current value is $191 million with a circulation of 3 billion.
Disclaimer: information contained herein is provided without considering your personal circumstances, therefore should not be construed as financial advice, investment recommendation or an offer of, or solicitation for, any transactions in cryptocurrencies.