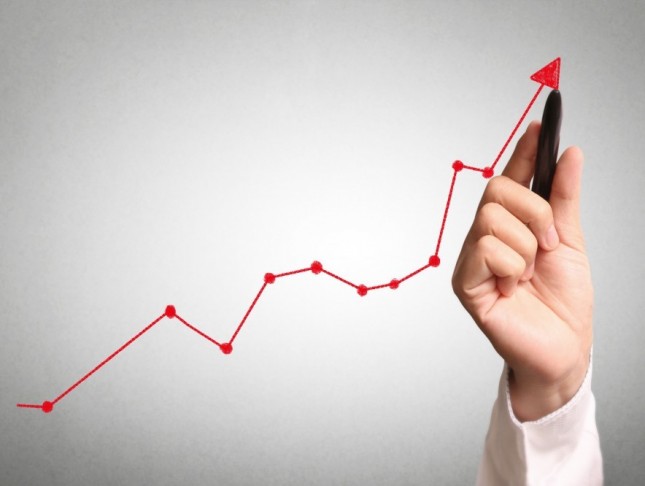 Bitcoin Hits $10,000 as Legendary Investor Jumps In, CRPT, TNT, 0x May 11
May 11, 2020, 9:05PM

by
Kevin George
Bitcoin rallied to trade at the key $10,000 level as famed hedge fund guru Paul Tudor Jones announced he was an interested buyer.
BTC
Bitcoin rallied to test the key $10,000 level as the market continued to rise ahead of tomorrow's halving event. The event, which is the third in Bitcoin's history, will see block rewards for miners cut in half, from 12.5 to 6.25 BTC.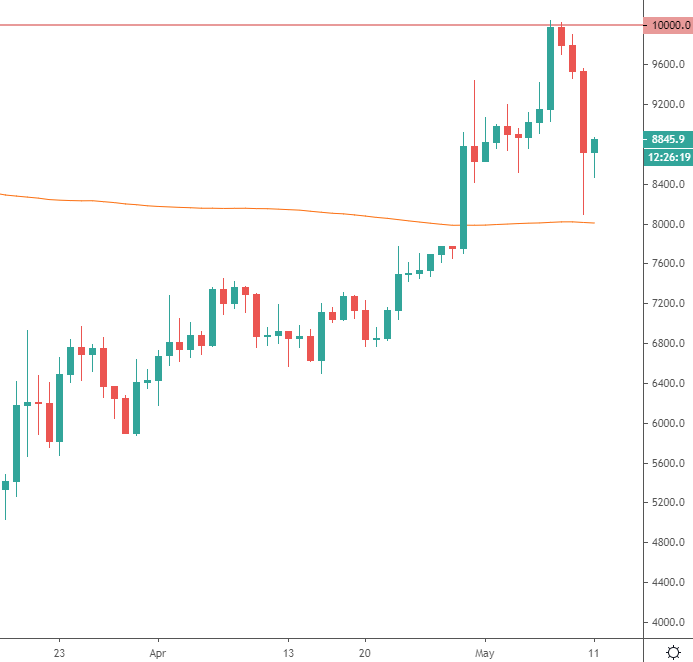 Bitcoin got another boost as it emerged that legendary Wall Street hedge fund investor Paul Tudor Jones was buying the largest cryptocurrency. In a market letter, Jones likened Bitcoin to gold in the 1970s and said he was interested in using it to hedge against Federal Reserve money printing and the potential for high inflation, which occurred in that era. Jones said that he expects BTC to outperform gold and other investments in that environment.
He said,
The best profit-maximizing strategy is to own the fastest horse. My bet is it will be bitcoin.
The hedge fund guru has an estimated fortune of $5 billion and his Tudor BVI investment firm manages $22 billion of assets. Another reason he is interested in owning BTC is due to the push for digital money, which he said was being accelerated by Covid-19. His entry into the cryptocurrency arena is a boost for the market as it may lead to other professional investors following his ideas. This theory was backed up by Bitmex CEO Arthur Hayes.
After the move to trade above $10,000, BTC has seen a swift pull back to the $8,500 level. In the week ahead the key levels are $10k and $8k.
CRPT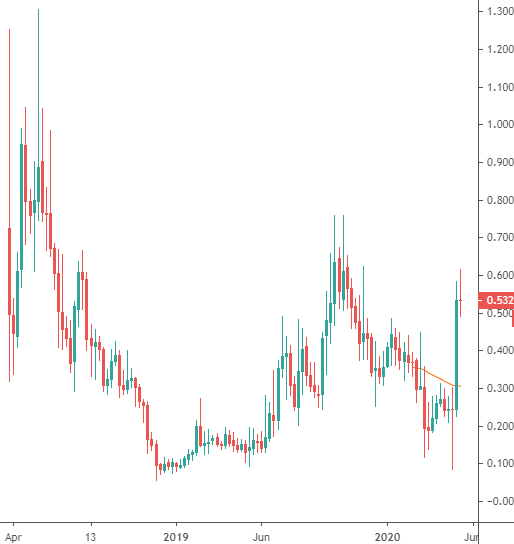 Crypterium (CRPT) was up 127% on the week with a strong move to the $0.5400 area.
Crypterium is a solution that seeks to simplify the sending of cryptocurrencies and make them mainstream. The company has a payment card that is accepted at over 50 million merchants including Amazon. Other features of the platform include bank transfers and the ability to send crypto to users who do not have a digital wallet.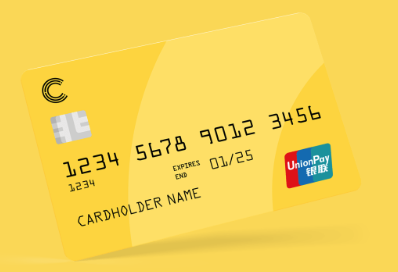 April and May have seen a host of new coins added to the CRPT wallet. These include Tether, Chainlink, 0x, and Maker. The wallet already includes support for XRP, Bitcoin Cash (BCH), and USDC.
CRPT now ranks at number 82 in the list of coins by market value at $53.5 million. The weekly chart shows the recovery in price and momentum should see it test the $0.7000 level and maybe trade at $1.00 soon.
TNT
Tierion has been another strong performer recently with a move from lows near $0.0200 to trade at the $0.1000 level.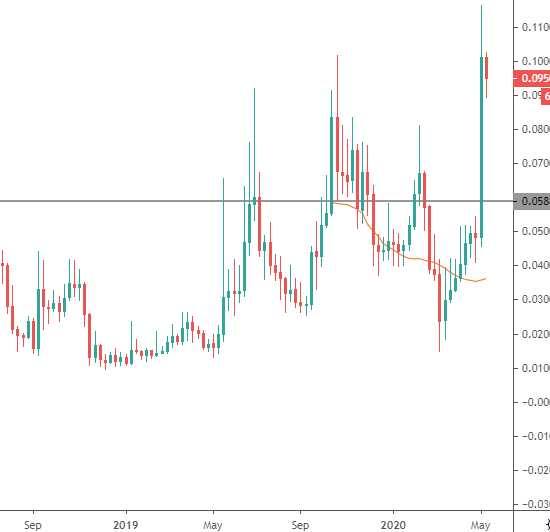 Tierion is seeking to build a platform that, "reduces the cost and complexity of trust". The project is planning for a world where blockchain is used to verify a wide range of transactions from online purchases to medical records.
Recent news from the project was the launch of their Chainpoint product on Microsoft Logic Apps and Microsoft Flow. Chainpoint lets developers anchor data to the Bitcoin blockchain and create a timestamp proof.
Developers can now anchor data to Bitcoin when creating workflows between enterprise systems and popular applications, including Salesforce, Office 365, Twitter, Dropbox, and Google services.
Tierion's CEO commented on the partnership:
Our team at Tierion has collaborated with Microsoft for over a year, and we're thrilled to finally launch Chainpoint on these two popular Microsoft platforms.
The Microsoft tie-up has been a key driver of TNT's price and should continue to provide fuel for an advance. The next resistance levels lie at $0.1400 and $0.2000.
LEND
AAVE's LEND coin was up 61% on the week and the project is aimed at custodial and crypto lending solutions.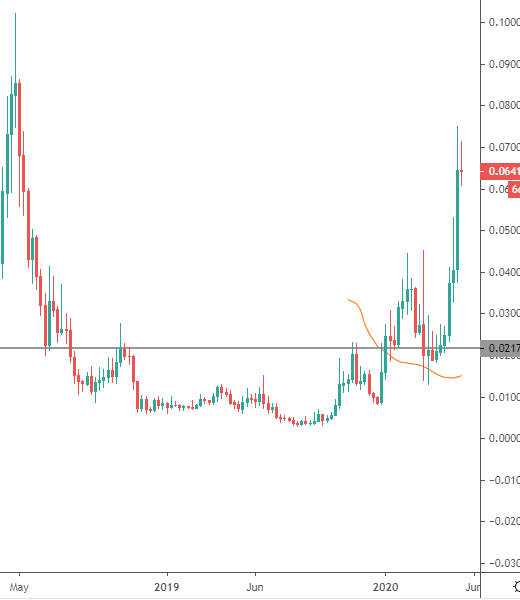 One of the company's products is the innovative "flash loan". These are designed for developers and enable instant, uncollateralized loans. The loans have to be repaid within one transactional block and use cases include arbitrage, collateral swapping and self-liquidation.
LEND was trading at $0.0640 and the coin will now be eyeing the recent highs at $0.1000 as a next target. The coin is ranked at number 67 in the list of coins by market cap.
ZRX
0x was up almost 100% on the week with a move to the $0.4000 area.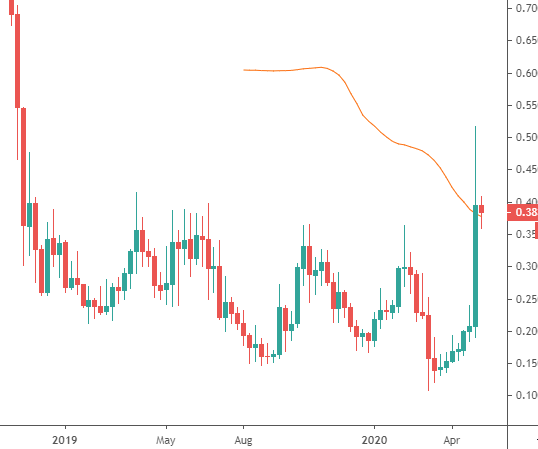 The 0x platform is focused on smart contracts and architecture solutions for decentralized assets (DEX) such as gaming assets, decentralized loans, and stable tokens.
0x is currently launching a new trading platform named Matcha, which the project says will,
...usher in the next wave of users into the DEX & greater DeFi ecosystem.
Users can get early access to the beta version of Match via the website.
After clearing a host of resistance levels to $0.4000 ZRX has the opportunity to double again if it can hold this level. The project is currently ranked as the number 35 coin with a market cap of $250 million.
Disclaimer: information contained herein is provided without considering your personal circumstances, therefore should not be construed as financial advice, investment recommendation or an offer of, or solicitation for, any transactions in cryptocurrencies.