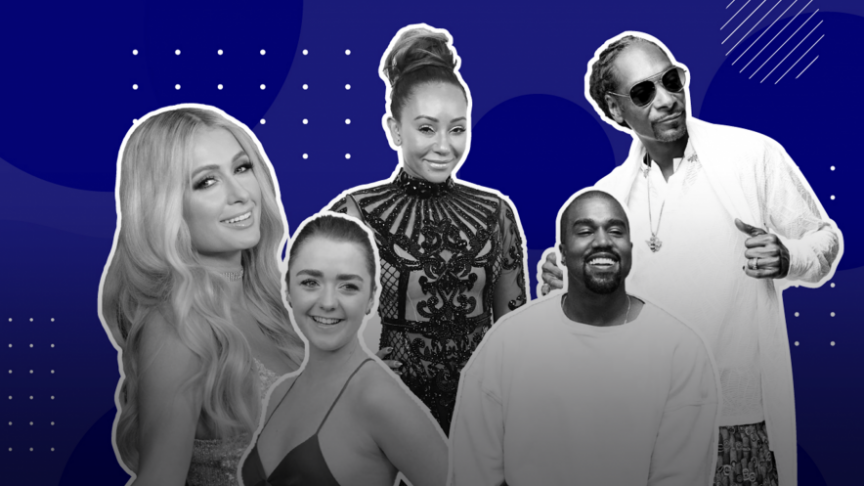 Does Celebrity Endorsement of Bitcoin Benefit Cryptocurrency?
Dec 9, 2020, 5:45PM

by
Mike Dalton
Some celebrities have bought crypto or backed blockchain startups. Does this benefit the crypto industry?
Several celebrities have gotten involved in Bitcoin in recent years, with famous actors, athletes, and tech personalities all taking part. Below are some of crypto's most notable celebrity investors and endorsers from the past decade.
Celebrities Who Use Bitcoin
Game of Thrones star Maisie Williams purchased an unknown amount of Bitcoin in November after seeking advice from the crypto community on Twitter. Though the Twitter community was divided on whether Williams should purchase Bitcoin, Williams later said that she "bought some [Bitcoin] anyway."

Williams is not the first celebrity to take an interest in Bitcoin. Harry Potter author J.K. Rowling tweeted about Bitcoin in May. Though she eventually chose not to invest in Bitcoin, and stated that she doesn't trust it, for more than three hours Rowling engaged in discussion with Bitcoin advocates—including The Block reporter Steven Zheng, Zcash executive director Josh Cincinnati, and crypto lawyer Jenny Leung.

Paris Hilton, meanwhile, auctioned a digital painting of her pet cat in August 2020, which sold for $17,000 worth of Ethereum. The proceeds were donated to charity.
Hip Hop artist Kanye said in October that the goals of the Bitcoin community could lead to the "true liberation of America and humanity."
Some of the earliest Bitcoin adoption occurred in the music industry. Rapper Snoop Dogg and former Spice Girl Mel B accepted Bitcoin as payments for album purchases in 2013. Icelandic music artist Bjork also accepted Bitcoin payments in 2017.

Comedian Drew Carey also held Bitcoin at one point. He said in 2013 that he "tried to buy breakfast [with] Bitcoins," but lamented that his payment attempt was refused.
Projects Backed By Celebrities
Other celebrities have chosen to endorse cryptocurrency projects rather than buy Bitcoin. Gwyneth Paltrow endorsed crypto exchange Abra in 2018, while soccer player Luis Suarez promoted predictions market Stox in 2017.
Some celebrities have even given projects financial backing. Ashton Kutcher invested in the crypto sports betting platform Unikrn through his investment firm, Sound Ventures, in 2015. Business magnate Richard Branson invested $30 million in BitPay in 2014. Tennis player Serena Williams briefly invested in Coinbase through her VC firm.
More recently, rapper Akon launched his own cryptocurrency, "Akoin" and has detailed plans to build a $6 billion "smart city" powered by the cryptocurrency in Senegal.
The projects listed above have all been reasonably successful, but unfortunately, that is not true of every celebrity-endorsed startup. LydianCoin (endorsed by Paris Hilton), Bitcoin Direct (endorsed by Mike Tyson), and Cobinhood (endorsed by Jamie Foxx) have all failed. Paragon, a cannabis cryptocurrency endorsed by rapper The Game and Miss Iowa Jessica VerSteeg, also announced bankruptcy this year.
Some endorsements have led regulators to fine the celebrities involved. Floyd Mayweather and DJ Khaled were fined in 2018 for their involvement in promoting Centra Tech, while Steven Seagal was fined in 2020 for endorsing Bitcoiin2Gen. John McAfee was also fined for involvement in various ICOs this year.
The issue in these cases arises from the fact that celebrities were paid to promote the projects in question, but did not fully disclose to that fact to audiences.
Does Celebrity Talk Really Help Bitcoin?
Celebrities have undoubtedly attracted some attention for the crypto sector. However, actors and athletes do not necessarily talk about Bitcoin for long periods of time.
Rather, tech personalities seem to be the most vocal Bitcoin investors: Elon Musk of Tesla, and Jack Dorsey of Twitter and Square, have possibly generated more hype for crypto than any mainstream celebrity. VC investors who have invested in Bitcoin alongside traditional assets, such as Tim Draper, have also benefited Bitcoin's image.
Other high-profile crypto investors include Michael Novogratz of Galaxy Digital, Tyler and Cameron Winklevoss of Gemini, and Anthony Pompliano of Morgan Creek Digital.
In other words, lasting endorsement from individuals who are not considered mainstream celebrities could benefit Bitcoin to the greatest extent, especially if those individuals are well-known within the crypto community.
Disclaimer: information contained herein is provided without considering your personal circumstances, therefore should not be construed as financial advice, investment recommendation or an offer of, or solicitation for, any transactions in cryptocurrencies.