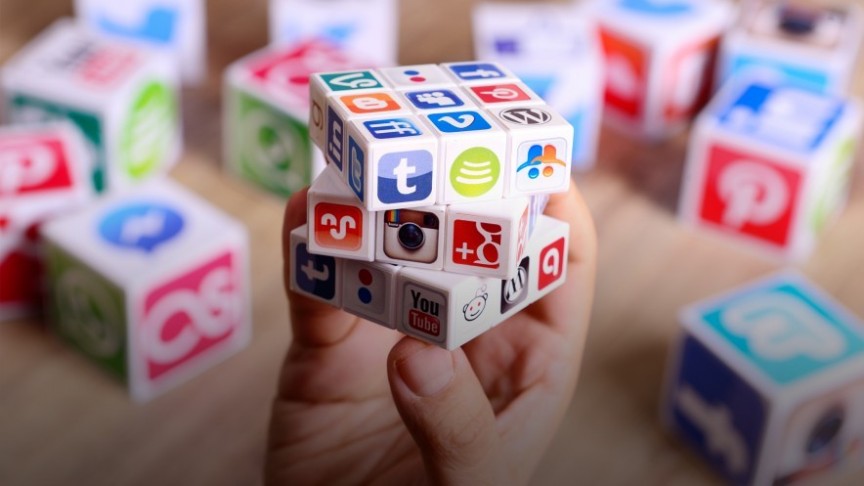 Five Blockchain-Based Social Media Platforms To Watch In 2020
May 29, 2020, 6:28PM

by
Mike Dalton
Social media platforms can use blockchain to give their users freedom, privacy, and rewards. Here are five projects to watch.
Mainstream social media platforms have sparked controversy in recent years. Major platforms such as Twitter, Facebook, and YouTube have the power to censor users and content, even against the wishes of their userbase. They can also demonetize content and control the flow of revenue single-handedly.

Blockchain technology provides a solution to these problems. Social media projects can prevent censorship by storing user content on a blockchain's immutable ledger. Additionally, they can give users control over rewards and reputation points by handling that data through unstoppable crypto transactions.
Below are this year's most significant blockchain-powered social media platforms.
Society2 on IOTA
Society2 is an upcoming social media platform based on the IOTA blockchain and its IOTA Streams framework. Users will benefit from greater control over their data and greater privacy, and they will also be able to earn free IOTA tokens by viewing ads. Developers can build new platforms on top of Society2 as well.
Society2 announced its plans on May 5, 2020, and asserted its goal of becoming one of the first decentralized social media platforms with mainstream appeal. The development team plans to deliver an early prototype by Q3 2020, but they have not yet announced a final release date for the platform.
Voice on EOS
Voice is an upcoming social media platform that will distribute crypto rewards to content creators and put a focus on transparency. It is being developed by Block.one, the company behind the EOS blockchain. Voice was first announced in June 2019, and Block.one opened the service to beta users this February.

Voice has been widely criticized due to the fact that transparency, not privacy, is its ultimate goal. The platform plans to stop fake news, bots, and dishonest promotional practices by keeping every part of the platform accountable―and to do so, Voice users will need to verify themselves and make their identity public.
Hive and Peakd
Hive is a new blockchain that originated as a fork of Steem. In February, TRON acquired Steemit, Inc., which allowed it to gain control over Steem. In response, several Steem nodes and users created Hive, introducing a new governance model that is designed to prevent anyone from gaining control over the blockchain.
Despite those differences, Hive's social media functions are very similar to those of Steemit. Users can post content on Hive's social blogging platform (Peakd) and make use of Hive's other blockchain apps. Users also receive HIVE crypto tokens for posting content and commenting on that content, just like they would on Steemit.
Blue Sky and Twitter
In December, Twitter CEO Jack Dorsey announced a social media project called Blue Sky, which will be tasked with building a decentralized social media standard. Though Blue Sky has not directly mentioned blockchain in its plans, Dorsey's past interest in crypto means that blockchain is probably involved in some way.

However, very little is known about Blue Sky apart from the fact that it is surveying existing standards. Some critics have noted that Twitter's intentions could actually be sinister: in theory, the company could join an existing decentralized project such as ActivityPub, then use its influence to bend the standard to its will.
Reddit's Ethereum Points
In April, Reddit began to experiment with an Ethereum-based system called "community points." Though Reddit already has an existing points system called "karma," a blockchain-based reward system would ensure that Reddit does not have the power to take points away from users. Ethereum points would also be spendable.

Unfortunately, there is no guarantee that this will become a permanent fixture of Reddit, and some users say that the feature was removed from Reddit shortly after its first appearance. In fact, something similar has happened before: Reddit briefly hired a Bitcoin engineer in 2014, but nothing ever came of that decision.
Other Platforms
These social media platforms are primarily up-and-coming projects. So far, only Hive is available to the general public, and Voice is only available to select beta testers. Society2 and BlueSky do not have any usable products at the moment, and Reddit's Ethereum-based points system appears to be offline for the time being.

In the meantime, there are plenty of other social media platforms that are already active. Those platforms include Steem, Memo.cash, Peepeth, DTube, and Minds. Often, these platforms do not require users to own any cryptocurrency―meaning that they are easy to access despite the niche appeal of blockchain technology.
Disclaimer: information contained herein is provided without considering your personal circumstances, therefore should not be construed as financial advice, investment recommendation or an offer of, or solicitation for, any transactions in cryptocurrencies.