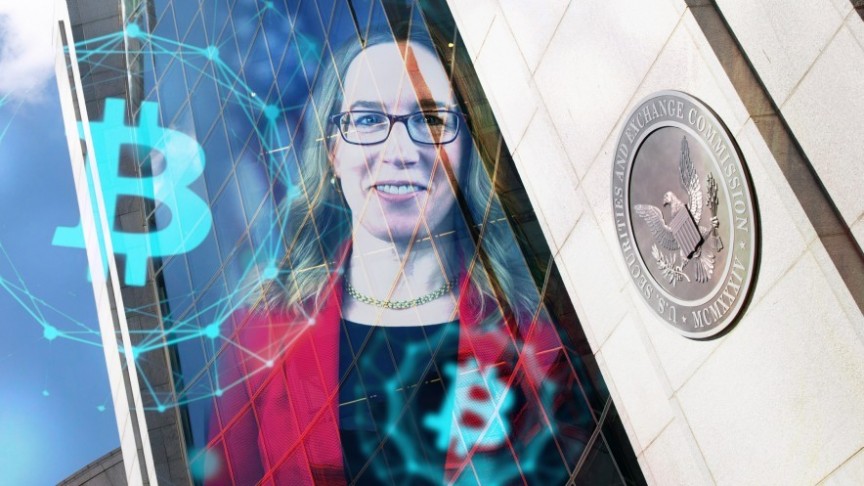 SEC Commissioner Hester Peirce Emerges as Crypto-Community Hero after ETF Rejection
Jul 27, 2018, 7:12PM
Hester Peirce has received praise from the crypto-community after the release of a statement of dissent relating to the Winklevoss Twins' ETF.
The U.S. SEC has thus far offered a lukewarm reception to the much-hyped crypto market. From conflicting statements as to the status of various coins as securities to a fake ICO that warned investors about possible scams, the SEC has continuously dampened enthusiasm in the industry.
A consistent exception to that rule has been SEC Commissioner Hester Pierce who has risen to become an avid champion of crypto from within the SEC. Today that is more apparent than ever. After the SEC's July 26 announcement that it would reject a second attempt by the Winklevoss twins, the founders of the crypto exchange Gemini, to list the first-ever cryptocurrency ETF on a U.S. exchange, Hester Peirce came out with this scathing statement on Twitter: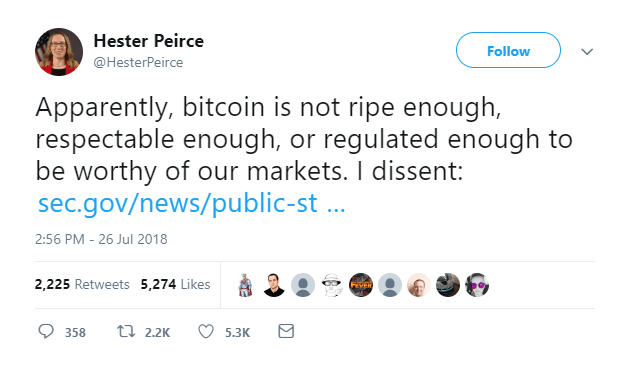 Official Statement of Dissent to the Decision
The tweet links to an official statement on the SEC website announcing her dissent to the committee's decision. This is not the first time Peirce has made welcoming statements to the crypto community, but it is the first time she has made her dissent official.
Peirce's statement communicates her belief that the change in rules that would allow the Winklevoss Bitcoin Trust to list its ETF exchange conforms to the Securities Exchange Act of 1934 and its accompanying regulations and should, therefore, be approved according to precedent. She argues that the rejection constitutes a disproval of the cryptocurrency market itself rather than an assessment of the legality of an ETF exchange dealing with cryptos as its underlying product, which she considers to be an overstep on the SEC's part. She goes on to say that she would reject the decision of the commision and approve the rule change if it were her decision to make.
I would limit review of BZX's rule filing to a consideration of whether the exchange's rules governing the trading of the ETP shares are consistent with Exchange Act Section 6(b)(5). Based on the record before the Commission, I find that they are consistent and would approve the rule filing.
The Decision Undermines Investor Protection
Perhaps more significantly, her statement also communicates the belief that the rejection of the rule change actually undermines investor protection, which is the stated goal of the SEC's regulatory actions. Peirce argues that proper regulation will be necessary to ensure transparency in what is already a very popular market.
The disapproval order therefore unintentionally undermines investor protection. It precludes investors from accessing bitcoin through an exchange-listed avenue that offers predictability, transparency, and ease of entry and exit.
Peirce reasons that the commission's approach will prevent the institutionalization of the cryptocurrency market and that institutionalization would be favorable because it would eliminate many of the very concerns about cryptocurrencies that the committee described in coming to its decision. Her statement also argues that the decision will stifle innovation in the market, which again is contrary to the SEC's stated purpose.
Hester Peirce's Road to Becoming a Crypto Champion
Peirce's strong background in finance adds credibility to her views on cryptocurrency regulation. A lawyer by education, having graduated with a B.A. in Economics from Case Western Reserve University and received her J.D. from Yale Law School, Peirce specializes in financial market regulation.
Before joining the SEC, she served as Senior Research Fellow and Director of the Financial Markets Working Group at the Mercatus Center at George Mason University. This post included research into how "well-designed regulation [could] promote financial stability and innovation." Her focus was on how financial markets foster growth and the role of government in balancing financial stability and innovation. She has also worked as Senior Counsel on Senator Richard Shelby's Committee on Banking, Housing, and Urban Affairs and as counsel to former SEC Commissioner Paul S. Atkins.
Peirce was originally chosen by the Obama administration to fill a Republican seat on the SEC. After a rocky term under Obama, where the Senate Banking Committee attempted to block her nomination, her position was made official under the Trump administration in January of 2018. She will continue in her position as an SEC Commissioner until 2020.
Peirce is known for her strong views on banking regulations. She was critical of the regulatory expansion that took place after the 2008 financial crisis. She opposes what she describes as government micromanagement, suggesting that it interferes with banks' ability to serve their customers.
In her previous support for the cryptocurrency market, Peirce has emphasized that regulation should not stop innovation and argued that the SEC should educate itself about innovations in blockchain and cryptocurrency. Peirce describes the, ideally hands-off, role of the SEC using a lifeguard analogy.
On a beach, the lifeguard watches over what is happening, but she is not sitting with sandcastle builders monitoring their every design decision.
The Crypto-community is Grateful
Peirce's most recent dissent has made her something of a hero in the crypto community. In the wake of her tweet, her Twitter following grew from 1,700 to over 10,000 in just a few hours. Some Redditors have labeled her "Crypto Mom" and are makings calls for her to be the "next Giancarlo", a reference to U.S. Commodity Futures Trading Commission (CFTC) chairman, J. Christopher Giancarlo, (who defended crypto in front of Congress).
It is not uncommon for cryptocurrency investors to back financial authorities who encourage cryptocurrency and blockchain. Indeed, along with Giancarlo, the SEC's chairman, Jay Clayton, has also been embraced by the crypto community.
As the cryptosphere awaits further decisions regarding ETF's, Peirce is at the center of a major online buzz. She will undoubtedly have a much larger platform should she continue to speak out in favor of cryptocurrency adoption and positive regulation.
Disclaimer: information contained herein is provided without considering your personal circumstances, therefore should not be construed as financial advice, investment recommendation or an offer of, or solicitation for, any transactions in cryptocurrencies.