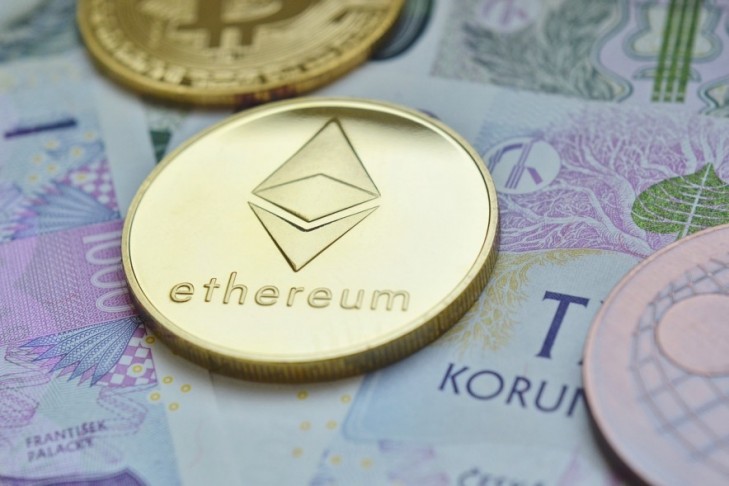 ETH Gains in a Quiet Market, ATOM Up 30% on Coinbase Effect, Sep. 16
Sep 16, 2019, 3:16PM

by
Kevin George
Ethereum gains in a quiet market as upgrade developments continue, GXChain is raided by Chinese police, ATOM gains 30% on Coinbase listing.
ETH
Ethereum gained 7% during a quiet week in the cryptocurrency market with BTC flat on the week. Vitalik Buterin the co-founder of Ethereum spoke at the Ethereal conference in Tel Aviv on Ethereum 2.0 upgrade developments and the potential he sees for decentralized finance (DeFi).
Buterin said phase zero, which is the first part of the 2.0 upgrade was "finalized" except for some minor security issues. He also discussed progress regarding improved privacy, stating:
Zk-SNARKs in general have really made a huge leap of progress over the last three weeks, in a way a lot of people aren't realizing.
This was a reference to zero-knowledge proofs which are used by the privacy coin Zcash. These are set to be used by Aztec Protocol, which is a project aimed at bringing privacy to the Ethereum blockchain as of October. AZTEC is designed to create private digital assets on the Ethereum blockchain in loans, bonds, and real estate. This could be a powerful addition to the 2.0 upgrade.
It was also reported this week that Europe's fifth-largest bank had become the first institution to issue a debt-based bond on Ethereum and this is another indicator of blockchain's growing importance in the financial sector.
In partnership with a London-based fintech firm, Santander developed a token for a $20 million debt issuance. This is a small number in a financial asset space which is the largest in the world and is worth trillions of dollars, yet it is a test of the capabilities and a good development that financial institutions are taking the technology seriously.
José García Cantera, CFO at Banco Santander commented on the deal:
Santander is at the forefront of the profound digital transformation of the financial sector and this transaction is one example. We want to take advantage of any technology that can accelerate that process, so that our customers thrive and be faster and more efficient, and blockchain is one of those technologies.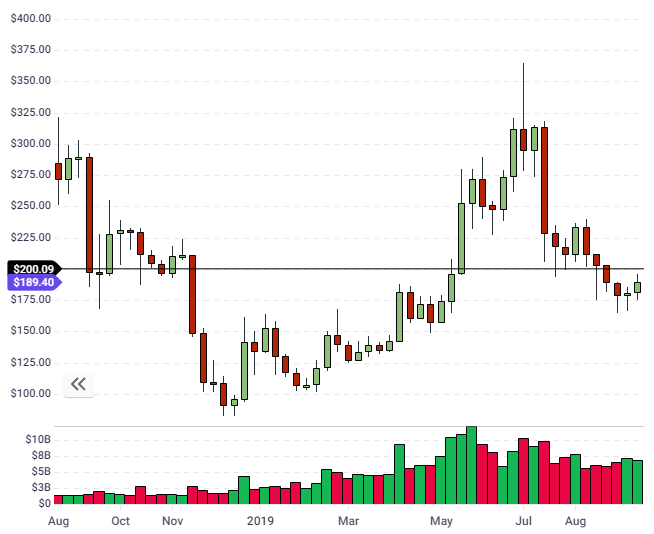 ETH is currently trading below $200 after a second week of gains. Getting above there would set the coin up for more gains but that will likely rely on a stronger BTC ahead of the 2.0 upgrade.
ATOM
The COSMOS project has seen its coin rally 30% on the week and this completes a strong gain since early September.
The price of ATOM now trades at $3.26 with a market cap of $600 million. The move in ATOM is yet another rally that is based on a Coinbase listing and sees the coin knocking on the door of the top 20 coins by market value.
Cosmos states on their website:
The end goal is to create an Internet of Blockchains, a network of blockchains able to communicate with each other in a decentralized way.
The project is seeking to build on issues such as scalability and governance that have slowed the progress of other coins.
GXC
The China-based project GXChain saw its coin going 30% in the other direction after news emerged that their offices had been raided by local police.
The project which once saw a market capitalization of $622 million at its peak is now trading at a value of $33 million with a price of $0.50.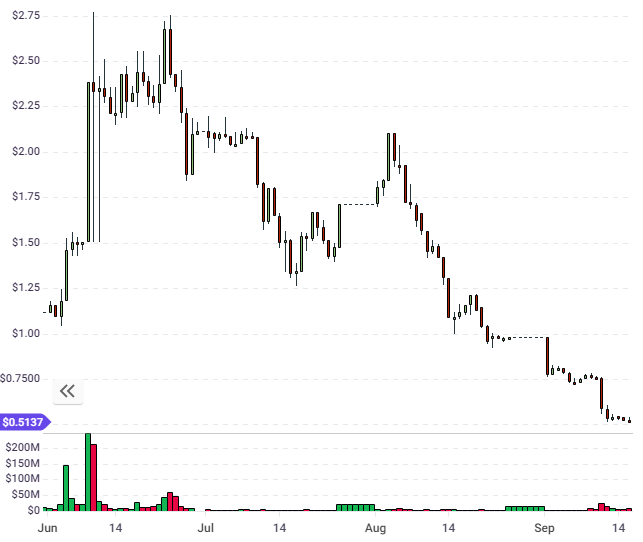 Details of the raid have been very vague, although it may be related to the fact that GXC is a data-related project that processes personal credit data, which is a highly sensitive area in China.
China is rolling out as "Social Credit System" in the country, where all citizens will be placed on a database and be at risk of punishment from poor credit. An N.Y. Post article sums up the punishments as,
A low social score will exclude you from well-paid jobs, make it impossible for you to get a house or a car loan or even book a hotel room. The government will slow down your internet connection, ban your children from attending private schools and even post your profile on a public blacklist for all to see.
It's probably a good guess to assume that regulators will want to monopolize the use and control of personal data and thus GXC has chosen the wrong goal for a crypto project.
NEWS
News at the weekend was dominated by a drone attack on a Saudi Oil processing plant that has knocked out up to 5% of the global oil supply, which saw oil prices rally the most on record as trading opened. Once again, Iran has been blamed for this attack and we have a potential conflict in the making as President Trump has stated that the U.S. is "locked and loaded", as they await intelligence data. The threat of further oil price gains is not ideal for the slowing global economy and would be a convenient excuse from governments when their economies fall into recession. The swings of oil and the U.S. dollar will have an effect on the price of Bitcoin going forward and further developments will be noted carefully.
Facebook's planned Libra coin is facing criticism in Europe as French and German government officials speak out against the project. German politician Thomas Heilmann has said the coalition will "not allow market-relevant stablecoins". France's Finance Minister Bruno Le Maire said that they cannot permit the release of Libra as the "monetary sovereignty of states is at stake". This has always been a headwind for mass adoption as governments dig their heels in to protect the current financial system.
Disclaimer: information contained herein is provided without considering your personal circumstances, therefore should not be construed as financial advice, investment recommendation or an offer of, or solicitation for, any transactions in cryptocurrencies.