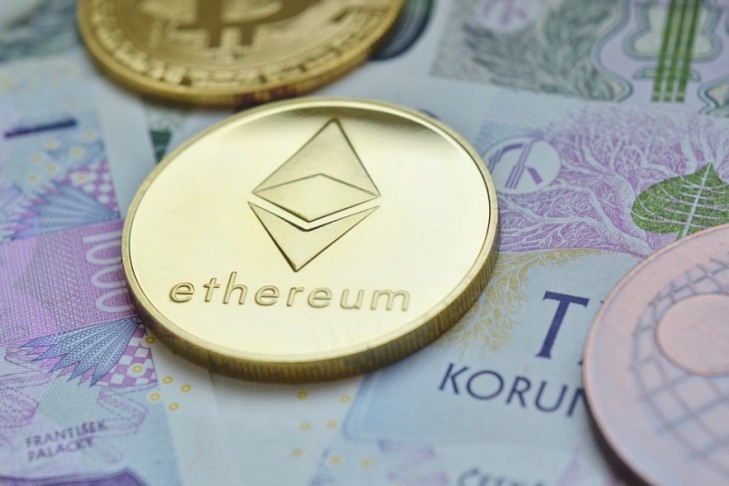 ETH Higher as BTC Tests Resistance Levels, ARK, IOTA Up 34%, Feb. 3
Feb 3, 2020, 4:14PM

by
Kevin George
ETH is higher on the week as BTC tries to test the key $10,000 level. IOTA and ARK are both up 34% hinting at possible lows in place.
ETH
Ethereum (ETH) was higher on the week by around 12% as the second-largest coin by market cap continues its recovery from the late-2019 lows. ETH is nudging higher towards the $200 level and will likely test that number at the same time as BTC gets ready to test the $10,000 level. BTC has paused from a recent high near $9,600 and some follow-through would be expected to attempt the key resistance level.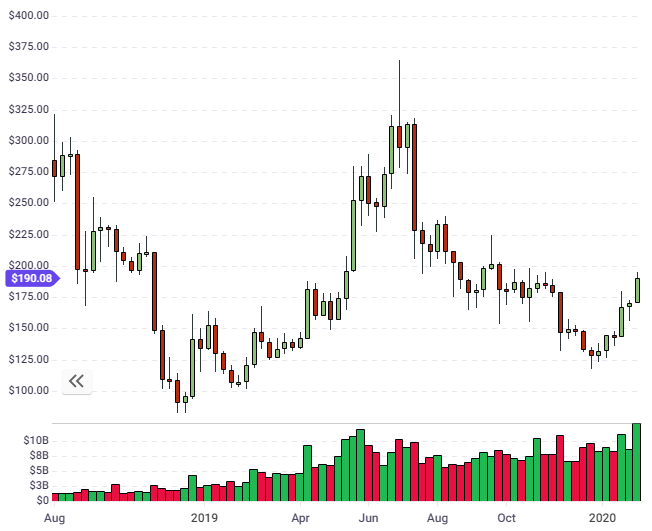 Ethereum has been boosted by the launch of the Aztec privacy network on the mainnet. The Aztec blog commented on the upgrade:
Our privacy network acts as a shield between you and the rest of the world — dapps, counterparties, and all other network observers.
Aztec's technology seeks to provide the opportunity for dApp (decentralized application) developers to build on the network whilst protecting the data of its users. This could be a valuable addition to ETH and lead to growth in dApps being built on the platform.
The price of ETH is now at $188, whilst the current market cap is $20.7 billion -- double that of its nearest rival XRP. As noted, if we see a push higher in BTC to test the $10,000 level, that positive sentiment will propel ETH towards the $200 level.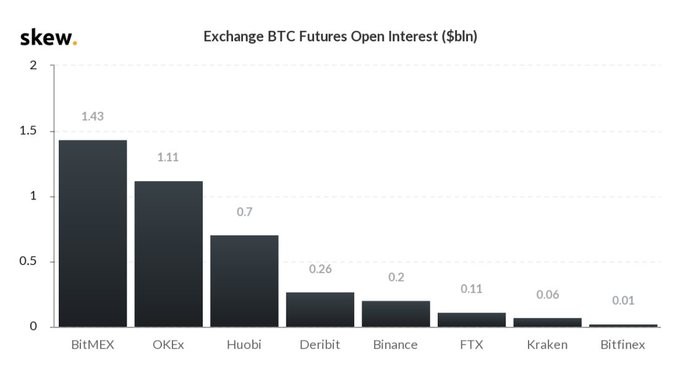 Data from cryptocurrency monitoring group skew shows that open interest in BTC futures contracts is over $4 billion. This is a sign of growing institutional and speculative interest in Bitcoin and as open interest grows, the potential for short-covering rallies grows if short positions build above key levels such as $10,000.
Another strong week was seen in Ethereum's sister coin Ethereum Classic as the coin has now pushed higher to the $12.50 level. I wrote about ETC when it traded at $5.30 and predicted gains ahead. The coin is now up over 100% since then and volumes continue to grow.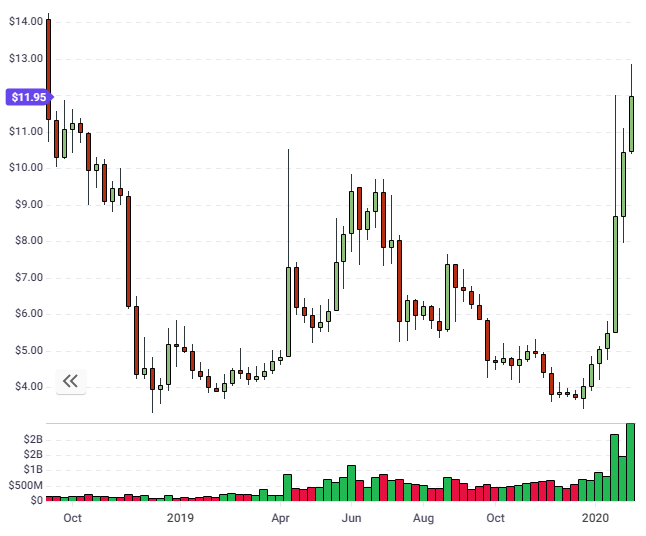 IOTA
IOTA is up 34% on the week and 10% of those gains have come in the last 24 hours as the coin moves into the number 18 spot ahead of NEO and LEO.
A positive development for IOTA was the announcement that Tata Elxsi, the subsidiary of the multinational Tata Group, had chosen IOTA over ETH to create a scalable vehicle-to-vehicle communication project. Tata Elxsi's hopes to protect against the existing risk of cyber attacks on the current Vehicular Adhoc Network (VANET) infrastructure.
IOTA has previously seen Britain's largest automobile company, Jaguar Land Rover, testing a prototype where users can earn IOTA tokens as a reward for sharing their data. The coin is, therefore, finding users in a niche area of the cryptocurrency landscape. In another positive for the coin, recent testing of the Hornet lightweight node is showing processing speeds of 40 transactions per second (TPS), which is 6x that of BTC and 3x faster than ETH.
In less positive news, trouble is currently brewing in the coin's development team as its two founders are locked in a disagreement with one threatening legal action. Although it would be seen as negative, one of those founders has not been working on the project for a year and it may help to move developments forward as co-founder David Sonstebo has argued that Sergey has refused to cooperate and assist the progress of IOTA.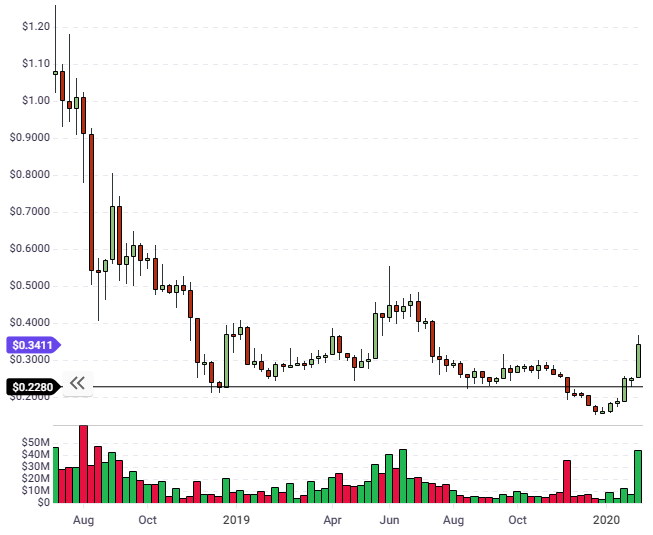 The price of IOTA is now trading at $0.3400 and the coin has made a clear move out of the recent lows and back into a key support zone. This gives hope that a bottom has been seen in IOTA and further gains can be made with resistance ahead at $0.5000 and $0.7000.
ARK
ARK is another coin up 34% on the week and the project now has a market cap of $25 million at number 71 in the list of coins.
ARK is currently working on the development of its v3.0 technology and v2.0 of its mobile wallet with both expected to be completed in Q1 of 2020. ARK tokens can be bought directly from the desktop wallet and are also listed on over 20 exchanges.
An example of Ark's ecosystem can be seen in the v2.6 upgrade where the company added "business transactions". One of these transaction types is a registration and update of new businesses which the blog explains will include,
...things such as a unique business name, a corresponding website, a vat number and a repository.
This technology could remove the need for current registration models, or it could be adopted by government agencies to upgrade existing registration means.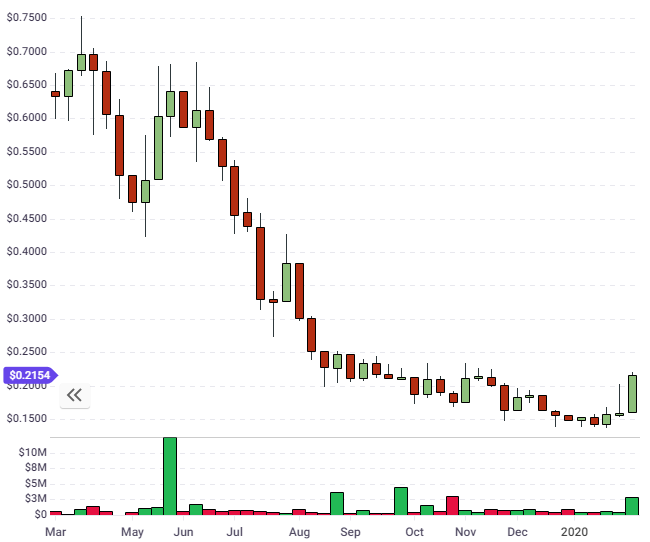 The price of ARK is now trading at $0.20 and, like IOTA, has the potential to create a base at the current levels. ARK is now trading at a significant discount from its price of $0.60 in the middle of last year.
The cryptocurrency market in the weeks ahead will be dominated by an expected test of the $10,000 level by BTC and this could add further fuel to the altcoin rally if it can get through that level and gain media attention once again.
Disclaimer: information contained herein is provided without considering your personal circumstances, therefore should not be construed as financial advice, investment recommendation or an offer of, or solicitation for, any transactions in cryptocurrencies.