Writer

William is a long-time trader who ditched the boring stock market for the new and exciting world of cryptocurrencies and altcoins. When he is not watching the charts, he spends his time researching and writing about Blockchain technology. He works as a freelance writer on a variety of subjects. William is a resident of the US.
READ FULL BIO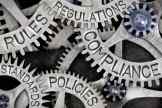 Indiegogo Cancels ICO to Ensure Compliance with Changing SEC Regulations
The firm's cautious stance may be justified at a time when several ICO projects are being sued over alleged violations of U.S securities law.
ICO's
Aug 26, 2018 - 1 min, 34 sec read
All the post are loaded