Writer

Mike is a library technician and freelance writer who spends time researching a lot of things. He is curious about everything and is continually astounded by the vast amount of blockchain projects in the world.
READ FULL BIO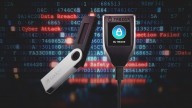 Hardware Wallets: Are They Really the Safest Way to Store Crypto?
Ledger has revealed vulnerabilities in its competitors' product lines. Is the issue realistic or overblown―and are hardware wallets really safe?
All the post are loaded