Writer

Mike is a library technician and freelance writer who spends time researching a lot of things. He is curious about everything and is continually astounded by the vast amount of blockchain projects in the world.
READ FULL BIO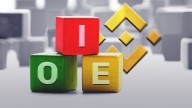 Initial Exchange Offerings: How Binance Set Off a Revolution In Token Sales
Initial Exchange Offerings are a new alternative to traditional ICOs. Binance has popularized the model, but does the trend truly have a future?
ICO's
Apr 19, 2019 - 4 min, 59 sec read
All the post are loaded