Writer

Mike is a library technician and freelance writer who spends time researching a lot of things. He is curious about everything and is continually astounded by the vast amount of blockchain projects in the world.
READ FULL BIO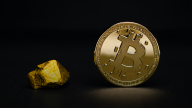 Bitcoin vs. Gold: Will Crypto Investors Choose Crypto Over Gold?
Several high-profile investors and financial firms have recently touted the advantages of Bitcoin over gold. Are those advantages guaranteed?
Markets
Nov 25, 2020 - 3 min, 46 sec read
All the post are loaded