Writer

Mike is a library technician and freelance writer who spends time researching a lot of things. He is curious about everything and is continually astounded by the vast amount of blockchain projects in the world.
READ FULL BIO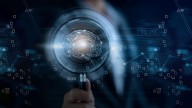 Code, Not Capital: Why Some Crypto Ranking Sites Are Focusing On Development Activity
Crypto projects have devoted dev teams, but they don't all move at the same pace. Can development activity rank each coin in a meaningful way?
Markets
Nov 27, 2019 - 3 min, 58 sec read
All the post are loaded