Writer

Rahul Nambiampurath is an India-based Digital Marketer who became attracted to Bitcoin and Blockchain in 2014. Ever since he has been an active member of the community. He is also a die-hard gamer and well renowned for binge-watching Game of Thrones.
READ FULL BIO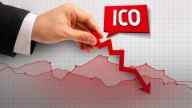 ICO Funding Has Dropped 90% Since January 2018 to a 17 Month Low
Cryptocurrency ICOs only managed to cumulatively raise $300 million in September, a far cry from the $2.4 billion recorded in January.
ICO's
Oct 10, 2018 - 1 min, 25 sec read
All the post are loaded