Writer

Rahul Nambiampurath is an India-based Digital Marketer who became attracted to Bitcoin and Blockchain in 2014. Ever since he has been an active member of the community. He is also a die-hard gamer and well renowned for binge-watching Game of Thrones.
READ FULL BIO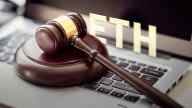 Supreme Court of British Columbia Authorizes Reclamation of 530 ETH Sent by Accident
The Supreme Court of British Columbia has ruled in favor of blockchain startup Copytrack that accidentally sent 530 ETH to an investor.
Ethereum
Oct 09, 2018 - 1 min, 56 sec read
All the post are loaded