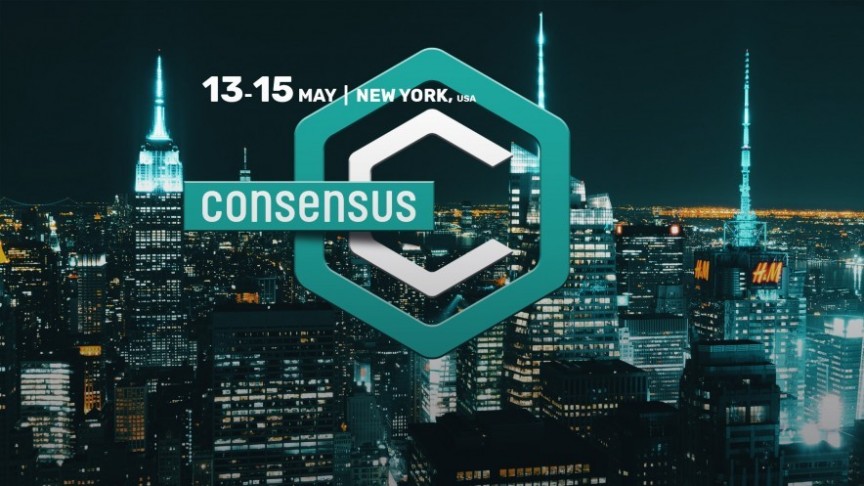 Consensus 2019 Is on Now: Who Are the Most Significant Parties In Attendance?
May 14, 2019, 6:15PM

by
Mike Dalton
Consensus 2019 is the biggest crypto conference of the year. Which blockchain leaders are appearing, and what are they discussing?
Each year, Coindesk sponsors Consensus, a major crypto conference. It's one of the hallmarks of New York Blockchain Week, and it attracts major figures from all corners of the crypto world, including developers, corporate leaders, and government regulators. This year, plenty of noteworthy names will be in attendance. Here are some of Consensus 2019's most important guests.
The Ethereum Foundation
Ethereum is the second largest cryptocurrency in existence, and its next major upgrade is one of the most anticipated blockchain projects of all time. Ethereum 2.0 will completely reinvent Ethereum by making it more efficient, secure, and scalable than ever before.
Although Ethereum 2.0 doesn't have a release date yet, the hype is building thanks to the platform's new testnet. The Ethereum Foundation will attend Consensus 2019 and appear during the Changelog series, where the team will share the latest news on Ethereum 2.0's progress.
Vlad Zamfir of Casper Labs
Meanwhile, Ethereum co-creator Vlad Zamfir will make a separate appearance. Zamfir is currently working with CasperLabs to build a new blockchain called Ectoplasm, which will compete with Ethereum 2.0 on many fronts—including scalability and staking.
During Consensus, Zamfir will carry out a special demo of the Ectoplasm testnet, which will allow conference-goers with access to a cloud computing service to spin up their own blockchain node. This special event will demonstrate the full potential of Ectoplasm in a live scenario.
Justin Sun of TRON
After just two years of development, TRON has become one of the biggest blockchain companies. The company has succeeded in creating the eleventh largest cryptocurrency and one of the most popular DApp platforms. It has also acquired the file-sharing company BitTorrent.
Justin Sun, the CEO of TRON, will address Consensus this year to discuss how he helped TRON achieve success during incredibly harsh market conditions. With Pete Rizzo of Coindesk, Sun will present TRON's business achievements in a presentation called "The Hype Machine."
Hester Peirce of the SEC
Over the past year, the U.S. Securities and Exchange Commission has imposed restrictive regulations that have stifled countless crypto projects. However, one SEC member has stood up and defied the rest: SEC Commissioner Hester Peirce.
Peirce has been pushing for more permissive regulations, and she has vocally advocated for regulations that encourage crypto innovation. During Consensus 2019, Peirce will appear in conversation with Chris Brummer of Georgetown University to discuss these matters.
Arthur Breitman of Tezos
In 2017, Arthur and Kathleen Breitman created Tezos, a blockchain with a radically new approach to governance. The end result is a blockchain platform with a decision-making structure and reward system that anyone can participate in at any scale.
This year, Arthur Breitman will attend Consensus to present "Anti-Fragile Rules: Governance from the Pre-Internet to Public Chains." Breitman will appear alongside Internet pioneer Steve Crocker to discuss new prospects for consensus, governance, and scalability.
Jason Han of GroundX
Social media companies all over the world are attempting to capitalize on crypto by launching their own blockchain platforms. One of those companies is Kakao, South Korea's most popular chat app. Last year, it partnered with GroundX to create the Klaytn blockchain.
During Consensus 2019, GroundX CEO Jason Han will present his views on blockchain and crypto. He'll also discuss how Kakao plans to bring blockchain tech to its 50 million app users. The result could be one of the biggest crypto platforms in the Asian market.
Rahul Pathak of Amazon
Public blockchains have achieved mainstream recognition, but enterprise blockchains are also incredibly popular. Amazon is one of the largest players in this realm thanks to its long-standing AWS blockchain tools, as well as its brand-new managed blockchain services.
This year, Consensus has managed to schedule a "rare conversation" with Rahul Pathak, the General Manager of Blockchain at Amazon. He'll discuss what Amazon sees in blockchain's future, and how Amazon's business clients are using blockchain tech right now.
Tim Ogilvie of Staked
Staking services are a new way for crypto investors to earn a passive income, and they're set to become a major trend this year. This is largely thanks to Coinbase Custody, which will allow institutional investors to stake their Tezos and Cosmos holdings later this year.
However, there is another promising contender in this area: Staked, a company that has actually received investments from Coinbase itself. During Consensus, Staked CEO Tim Ogilvie will present "Stake It 'til You Make It" and discuss the growing trend of staking services.
Watch Consensus Live
Consensus runs from May 13th to 15th, 2019. If you're unable to attend in person, you don't need to miss out: you can watch it online. Much of the conference will be streamed live on Coindesk's website, and recordings will be posted online after the fact. Also, be sure to take a look at the complete Consensus agenda—the events listed above are just a taste of what is on the docket.
Disclaimer: information contained herein is provided without considering your personal circumstances, therefore should not be construed as financial advice, investment recommendation or an offer of, or solicitation for, any transactions in cryptocurrencies.