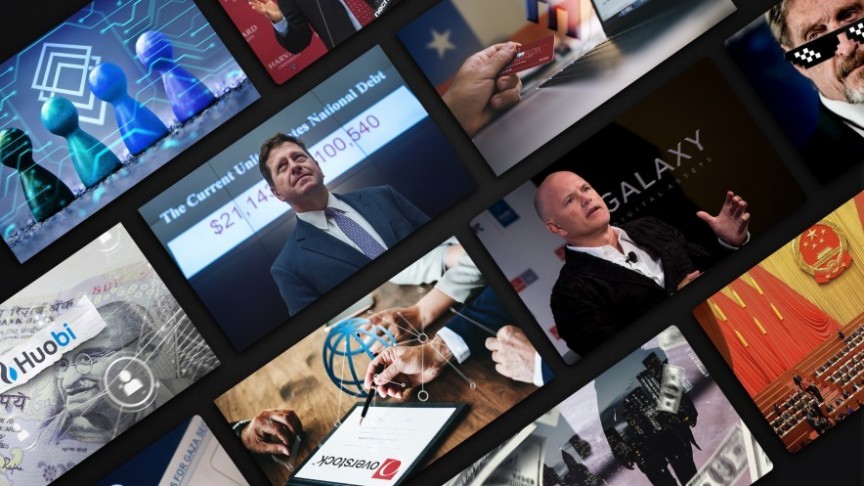 Weekend Recap: Everything That's Happened in Cryptocurrency & Blockchain: Aug. 17-19
Aug 20, 2018, 1:15PM

by
Shira Lando
Need to quickly catch up on everything that happened this weekend? This 2-liner piece sums up everything you missed in crypto & blockchain
Weekend or no weekend, crypto news keep on coming in. Luckily, Bitrates is here to give you a recap of everything important that's been going on. If you've been out of the game for a while, check out last week's article for a quick update.
Industry
Nvidia stock plummets after declaring in the Q2 report that GPU sales for crypto mining fell short of Wall Street forecasts by 82%. The chip-making giant's stocks have since dropped by as much as 6.4% in extended trading.
Capital One, a U.S.-based banking giant, filed for a patent for a blockchain system on which encrypted user authentication data can be received, stored and retrieved. The new tech is meant to offer safer user authentication methods, to be used in different sectors such as banking security.
JD.com, a Chinese retail giant, announced the release of an app for digitally tracking corporate invoices. The app is expected to increase efficiency by automating the invoicng process and keeping the data on an updated distributed ledger. The company also rolled out a new blockchain platform that lets users build, host and use their own blockchain apps.
Tube8, a Pornhub subsidiary, announced a partnership with Vice Industry Token (VIT) to reward users for watching or engaging with its services.
getting paid to watch porn was always a pipedream / Robin Turner, speaking to Hard Fork
Contrary to reports from last week, SoftBank officials deny any involvement in the investment deal with Bitmain, Bitcoin mining giant, according to Cointelegraph. According to the reports, Bitmain inked a pre-Initial Public Offering deal (IPO) that raised its valuation to $15 billion, purportedly involved two tech giants, Tencent and Japanese SoftBank, which is also Uber's largest shareholder with 15% stake in the company. Kenichi Yuasa, a SoftBank exec, told Cointelegraph,
Neither the SoftBank Group Corp. nor the SoftBank Vision Fund were in any way involved in the deal.
Blockchain
Northwestern University, Illinois, and bloXroute Labs have been developing a scalability solution for Bitcoin and other mainstream blockchains. Basically, they look to semi-centralize a blockchain by creating an ecosystem where a trusted set of independent servers propagates blocks throughout the network.
Vitalik Buterin sees limited use from the current blockchain technology, citing part of the problem from false values attributed to tokens. Buterin conveyed these views while participating in a discussion with Jason Hsu, aka "Crypto Congressman", both speaking on a panel regarding the future of blockchain at an event hosted by Blockchain at Berkeley.
Artists-activists Ai Weiwei (Chinese) and Keving Abosch (Irish) are setting out on a blockchain art project that will see the creation of two new Ethereum-based tokens. The project aims to stir up a discussion about the value of human life in modern times, and on the concept of "Priceless".
Exchanges
Coins & Tokens
Ripple has named three exchanges that are preferred in its xRapid payment system. These are Bittrex (for transactions involving USD), Bitso (for when Mexican Pesos are involved), and Coins.ph (for Philippine Pesos).
Privacy coin Zcash announced a major update, the release of Zcash 2.0.0, a network software that is compatible with the upcoming Sapling hard fork. Sean Bowe encouraged all users to upgrade to the new version in a blog post.
Crypto Facilities, a UK-based crypto futures exchange, announced it is adding Bitcoin Cash to its list of futures products.
Hacks & Frauds
This is Sabotage. If you are expanding crypto mining and filling the country with noise, then you will be sabotaging the peace. I am threatening to send you some explosives.
Regulation
Markets
Market bounces as Bitcoin awaits SEC decision, VEN, ETC & XRP Higher, market analysis, Aug. 17
LTC and altcoin market roundup, some quiet after the storm, market analysis, Aug. 18
Have ETH, BCH & BTC recovered? Not really, market analysis, Aug. 19
Disclaimer: information contained herein is provided without considering your personal circumstances, therefore should not be construed as financial advice, investment recommendation or an offer of, or solicitation for, any transactions in cryptocurrencies.