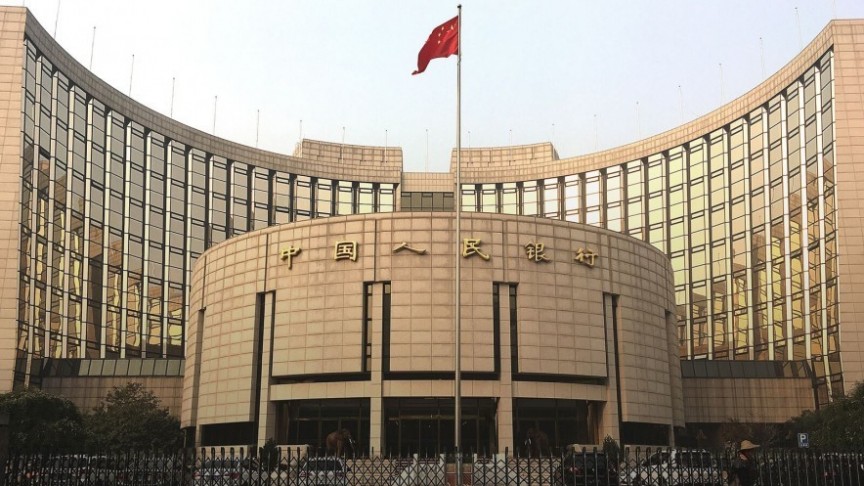 China Is Close To Issuing a Cryptocurrency: Here's What To Expect
Dec 4, 2019, 5:14PM

by
Mike Dalton
China is preparing to launch a state-sponsored digital currency based on blockchain technology. What does this mean for the crypto world?
China is close to launching its own national digital currency. It's an effort that has been underway since late 2018, and now, it's coming to fruition. The upcoming currency is called the Chinese Central Bank Digital Currency―or CBDC for short. It will be issued by the People's Bank of China, which serves as the country's central bank.

There's still no definite launch date, but the People's Bank has confirmed details about the currency over the past few months. In addition, the Chinese government has been shifting its position on crypto and blockchain, which will seemingly make room for the new state-backed CBDC. Here's what we know so far about China's plans.
What China's Digital Currency Will Look Like
In August, the People's Bank of China announced several details about CBDC. First and foremost, the currency will be a stablecoin: it will be price-pegged to China's fiat currency, the renminbi or yuan, and it will be backed by a reserve of the same. This means that CBDC is comparable to Tether, Libra, and other dollar-pegged coins.

CBDC is designed in two tiers. The first layer, which banks will use to issue and redeem the coin, will run on a blockchain. The second layer will be used to distribute CBDC, and it may or may not rely on blockchain. This design should offer support for 300,000 transactions per second and very basic financial smart contracts.

Unlike Bitcoin and other cryptocurrencies, CBDC won't be highly anonymous. Instead, CBDC is designed for "manageable anonymity": users won't be able to identify each other, but the Chinese government will be able to monitor activity. Users will not need a bank account, but they will need to identify themselves in KYC procedures.

CBDC's practical applications will be fairly typical. It will be used in interbank settlements, commercial transactions, and international payments. So far, at least five banks have signed up to use CBDC, according to one banking insider. The e-commerce giant Alibaba and the tech company Tencent have reportedly signed on as well.
How Critics Are Reacting
China's digital currency has drawn backlash from critics like Mati Greenspan of eToro. "[China wants] a greater level of control and surveillance," Greenspan told Decrypt in August. He argues that CBDC "is not designed to give people financial freedom...but rather to provide the Chinese government with a way to monitor transactions."

Some are more optimistic. During last month's Investment Outlook Summit, Mike Novogratz of Galaxy Digital suggested that pro-blockchain statements from Chinese President Xi Jinping have "credentialized crypto and blockchain." Novogratz also suggested that Xi's statements are to thank for a recent Bitcoin price pump.

Meanwhile, Changpeng Zhao of Binance has argued that CBDC is a "very good thing for the industry." He suggests that China's digital currency will encourage other countries to follow suit. Furthermore, he adds that this should popularize Bitcoin and other coins as well. "The more digital currencies there are, the better," Zhao says.
China's General Crypto Policy
China's move towards a state-sponsored cryptocurrency doesn't mean that it is opening up to other crypto efforts. Most restrictions still apply: in late 2018, China forced blockchain companies to sign up on a national registry. Prior to this, China has banned (or at least heavily restricted) ICOs, crypto trading, and Bitcoin mining.

However, restrictions might get lighter. Back on October 26th, China passed a law that will facilitate cryptographic research starting in 2020. Then, on November 5th, the country removed Bitcoin mining from a list of banned practices. These decisions aren't directly related to China's CBDC, but they are a sign that China is interested in crypto.

Regardless of current conditions, China has always been a crypto hotspot. It's given rise to major crypto companies such as Binance and Bitmain, as well as several major cryptocurrencies like TRON, NEO, and VeChain Thor. Some have even suggested that the Chinese government's control over cryptocurrency is overblown.
The Bigger Picture
China's efforts to build a digital currency will continue to generate controversy. The country's government policies are widely viewed as especially oppressive, even more so at the moment due to protests in Hong Kong. Blockchain advocates who value unconditional financial freedom do not find China's state-sponsored crypto reassuring.

At the same time, China is a technological and commercial powerhouse that is in a good position to create a successful national cryptocurrency. It's possible that CBDC could fail to gain traction, or that development may progress slowly. But ultimately, China seems to have a promising formula for a digital currency on its hands.
Disclaimer: information contained herein is provided without considering your personal circumstances, therefore should not be construed as financial advice, investment recommendation or an offer of, or solicitation for, any transactions in cryptocurrencies.